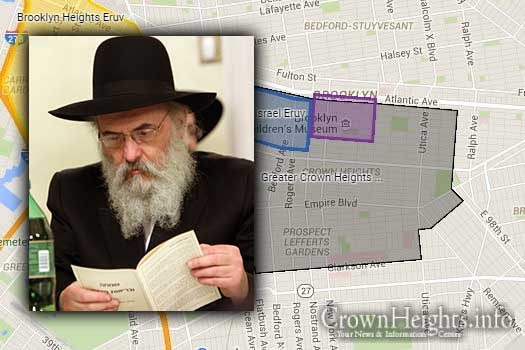 In a follow-up Shiur on the Crown Heights Eruv delivered on Thursday, Rosh Kollel Rabbi Yosef Heller doubled down on his previous comments lambasting the Eruv and those who use it, saying it is akin to Reform Judaism. The Shiur coincided with the release of a Halachic ruling from the Crown Heights Beis Din prohibiting the use of the Eruv.
Understanding Our Position
Notes from a talk in Kollel by Harav Heller Shlita
Transcribed and edited by Rabbi M. Greenberg
In order to make statements about Hilchos Shabbos you must know hilchos shabbos. R. Moshe Feinstein and R. Zalman Shimon Dvorkin knew hilchos Shabbos and they both said it is impossible to make an eruv in big-city neighborhoods such as Crown Heights.
The halacha is that one cannot enclose a Reshus Harabim using a tzuras hapesach (a wire eruv), and it requires actual walls. I would like to explain why I hold that Crown Heights is a Reshus Harabim and therefore a tzuras hapesach eruv cannot permit it.
Many opinions consider a street that is 16 amos wide (24 feet) to be a Reshus Horabim. The Alter Rebbe says (345:11,) that in such a case כל ירא שמים יחמיר לעצמו. For us Chasidim, the Alter Rebbe's words are enough (the Tzemach Tzedek writes the same in Chidushim on Eiruvin). There are other opinions that there must also be 600,000 people for it to be considered a reshus harabim min hatorah. That exists in Brooklyn. This is the psak of R. Moshe Feinstein and R. Zalman Shimon Dvorkin. Even if you'll find a contemporary Rabbi who claims otherwise – it is irrelevant. You can always search on the internet and find someone who will give you a heter for anything.
Reb Shlomo Zalman Auerbach who was himself one of greatest geonim of our times said Reb Moshe is in another league completely than all other contemporary poskim. Reb Moshe could finish the entire mesechta Zevachim on a Friday night after the meal. I saw this myself; I was by him a several times.
***
The Gemara says that R. Yossi Haglili ate chicken with milk. If someone will say that "You don't have to be more frum than Rabbi Yossi Haglili," we certainly wouldn't take him seriously. I am talking only to those who are interesting in doing the right thing.
It doesn't matter whether it is an issur d'oraisa or an issur midraban. Chicken with milk is also only an issur drabanan and so is the second day of Yom Tov. Also, chometz on Pesach is boteil bshishim mid'oraisa, and the prohibition of intentionally canceling forbidden foods (ein mevatlin issur lechatchila) is also only midrabanan. If someone is only concerned about an issur d'oraisa he can take chometz on Pesach and dip it into his food as long as there is sixty times the amount in his bowl. However, since there are some people who are less concerned of an issur drabanan, I will explain why carrying in Crown Heights touches upon an issur d'oraisa.
If someone were to build a proper tzuras hapesach (wire eruv) around a reshus harabim it is only an issur drabanan to carry there (according to some opinions, while others say that it remains an issur d'orasia – Tzemach Tzedek Chidushim Eiruvin and Shut Divrei Nechemya 23). However, to make a proper tzuras hapesach you must know the halachos of eruvin well and you need to check the eruv properly. You cannot just check from a car, you have to walk by foot around the entire Crown Heights (not a short distance). You have to check every single inch of the way to make sure everything is in place. No one is giving testimony that this was done or by whom.
Even if great poskim would come and say that an eruv can be built, Anash are bound by the psak of Alter Rebbe and the Tzemach Tzedek. It's not enough to say that the Rebbe said not to build, even though that it's completely true, because they could answer that they're not so mekushar to follow every hora'a of the Rebbe.
[One may also not be lenient and ask goy to carry, even in order to make a bris in shul, how much more so for a kiddush or to visit family. For the past 60 years no one ever brought a child to shul for a bris with a goy. (If one has a major need, a Rov may give a heter, but it is necessary to ask. The only situation when you don't need to ask a Rov is in a case of true Pikuach Nefesh.)]
***
America is a free country. We aren't here to fight a war against anyone else. I am speaking for a Lubavitcher chossid who wants to do the right thing. I hope this is not actually applicable, and no one will ever actually carry, but I must mention it.
If you see someone carrying and you don't say something, your children may draw the following conclusion: There are fine Jews who put on the Rabeinu Tam Tefilin and there are other fine Jews who don't. There are some Jews who daven nusach ari and there are Jews who daven a different nusach. And likewise: There are fine Jews – even Lubavitcher chassidim – who carry, and there are fine Jews who don't. Not only will your children make this mistake, but you may also begin to think this way over time.
If you see someone pushing a stroller you can't say anything because maybe she has a heter to take her child to doctor or something. But if you see someone carrying a chulent, you should say something.
If someone does toifer or koreia on Shabbos he is desecrating Shabbos – either knowingly or mistakenly. However, if he uses the eruv he is making a pirtza (breach) in the observance of Shabbos. He is opening a massive dam for an entire sea of Chilul Shabbos to come rushing through. This doesn't only affect him, but it affects us as well. Therefore, if you see someone carrying you should say something out of ahavad Yisroel, and for your own sake so that your children won't think that it is an acceptable minhag.
This is true even if that person claims he has his own "Rabbi".  This is like saying that there is the opinion of the Chasam Sofer, but Rabbi Micky from Flatbush also has his opinion. There is a Young Israel Rabbi that argues with Rabbi Akiva Eiger. Someone from Reform Temple Imanuel disagrees with Reb Moshe Feinstein. This is not a valid argument. They are not qualified to argue with Reb Moshe and Reb Zalmen Shimon Dvorkin. Someone who learned in Yeshiva and says otherwise and carries is considered a mechalel Shabbos b'meizid. If someone only recently converted to Judaism or became frum then we can be melamed zechus and say he is a mechalel Shabbos only bshogeg.
If a gabbai allows people to carry for kiddushim or bring strollers to shul you may not daven in such a shul. You should quietly find another shul to daven in. If you are at a simcha and see that a goy brings something on Shabbos you must leave immediately. A shul which uses food that was brought on Shabbos, even by a goy, has no chezkas kashrus, and you cannot eat the food.
***
The Gemara says that all leitzanus is forbidden except the leitzanus of avoda zara. The reason that it is permitted to make fun of avoda zara is that since avoda zara doesn't make logical sense you can't fight it with logic. You can't fight foolishness with intellect. The eruv of crown heights isn't even on the level of leitzanus. Avoda zara is at least possible to misconstrue as real. An eruv which no reliable person has confirmed has no basis in reality. We must make it clear that carrying on Shabbos in Crown Heights is not a valid position according to Torah. Rather it is the same thing as Reform, the Tzedukim, Baitusim, and so on. If this isn't clear who knows where it will end up.
I am talking for myself and my children. I want to be an "old-fashioned" Lubavitcher, in the ways of the Rebbeim and the Baal Shem Tov.
***********
Translation of a Halachic Ruling Released by the Crown Heights Beis Din
Free Translation (original Hebrew below)
Notice and Warning
Sivan 5776
To all residents and guests of Crown Heights,
In this community there is no kosher eruv. It is therefore forbidden for anyone to carry outdoors, both on Shabbos and Yom Kippur as the Torah instructs.
This matter has already been ruled by the rov and mara d'asra of Crown Heights, Harav Zalman Shimon Dvorkin a"h, in a clear psak from Kislev 5739, along with other poskim of America and Canada, prominent among them Harav Moshe Feinstein a"h, that is forbidden and not possible to set up an eruv in this city according to halacha.
Recently, it has been publicized by some unscrupulous individuals that an eruv had been constructed by reliable people. We are hereby notifying the public that after investigating the matter we have found that there is no basis to their words, and all the rabbonim and eruv builders whose names had been publicized all testified that they did not participate in this act of chilul Shabbos.
We are certain that no Rov from any other city will not touch our domain (as explained in Shailos U'Teshuvos Igros Moshe 2 siman 39), and will not aid an act against the Torah, and against the psak of the rabbonim of the community.
Anyone who does anything in this matter is acting against halacha, against the explicit opinion of the Rebbe, and against the psak of the local rabbonim, and he knowingly causes anyone who does carry in the public domain to be a Mechalel Shabbos B'Farhesia, R"L.
Signed,
[Harav] Avraham Osdoba                [Harav] Shlomo Yehuda Halevi Segal
Osdoba-Segal-Eruv