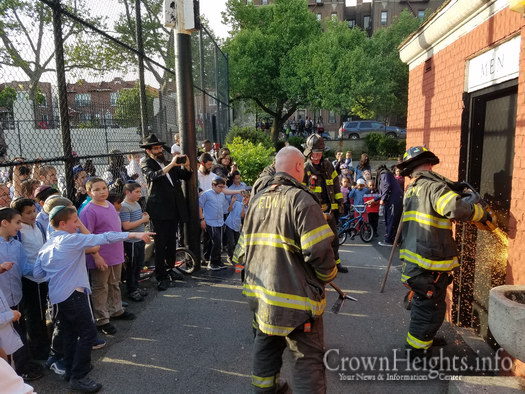 Attendant Locks Boy in Park Bathroom
A child was locked inside a public bathroom in Lefferts Park by a park worker who neglected to check if it was occupied. Firefighters had to cut the high security lock in order to free the child.
The incident occurred at around 6:15pm in the bathrooms that are maintained by the New York City Parks Department in the Hamilton Metz-Field Park, more commonly known as Lefferts Park.
A Shomrim volunteer who was in the park with his family was approached by a large group of children alerting him that a kid was locked in the bathroom. He immediately called for backup and 911.
One Shomrim volunteer arrived within minutes with bolt-cutters, but did not stand a chance against the tamper proof and high security lock. Firefighters arrived shortly thereafter and had to use a large power tools to cut open the cover, then the lock itself.
They had the door open within minutes, much to the young boys' relief.
"I am shocked that the [park] attendant did not even bother checking the bathroom before locking it" said a parent. "There was no one call besides 911 and Shomrim."
Some 15 minutes after the child was freed a parks department worker finally showed up with a key.