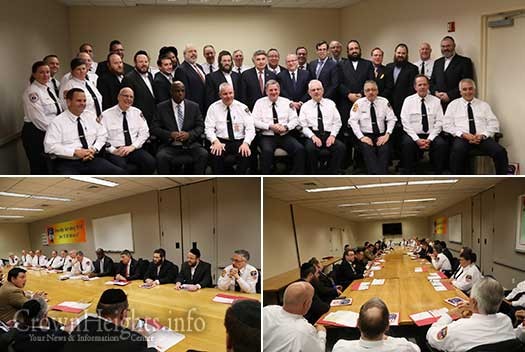 The New York City Fire Department hosted a pre-Passover meeting with leaders and activists representing Jewish communities all over the city. The meeting was presided over by FDNY Chief James E. Leonard.
The purpose of the meeting was to discuss fire-safety issues related to the holiday, and how to mitigate the dangers associated with cooking, cleaning, koshering, searching for the chometz by candlelight and burning the chometz.
After the tragedy that occurred in Flatbush last year, in which 7 children lost their lives r"l, a special focus was placed on hotplate safety, with the FDNY giving the following tips:
Inspect the wires and plugs for cracks and other signs of wear and tear
Check the junction box where the wire enters the unit – it should not be discolored, dislodged or cracked
If any portion of the appliance is broken or cracked– including the legs – then have the appliance professionally repaired for use or discard it
Never use extension cords with your hotplate
Only use timers that are rated for use with the appliance you will attach to them
Do not let power cords rest on top of the hot plates
Towels should not be touching the hotplate (sometimes people cover the food with towels to keep it warm)
A general Pesach fire safety checklist, compiled by the FDNY in collaboration with Orthodox rabbis, was made available at the meeting for its dissemination to the attendees' respective Jewish communities.