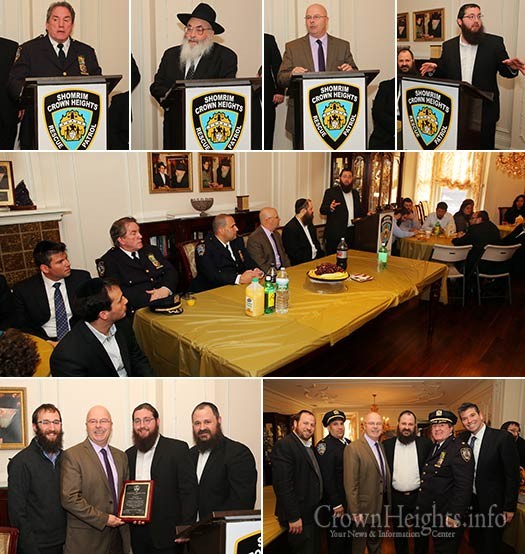 Shomrim Honors Promoted 71st Precinct Commander
Shomrim volunteers, along with community activists and NYPD brass, got together for an event honoring Inspector George Fitzgibbon, the outgoing commanding officer of the 71st Precinct.
Organized by Shomrim of Crown Heights, representatives from many of the area Shomrim patrols gathered for a breakfast along with Police brass from NYPD's Patrol Borough Brooklyn South and representatives of local politicians.
The event was graciously hosted by Sholom and Esther Laine, and featured a lavish breakfast buffet that was catered by Albany Bakery.
Fitzgibbon was recently promoted to the rank of Inspector, and was transferred to the Narcotics and Gang Unit in Brooklyn South, which he now heads.
Under his command, the 71st Precinct saw its crime figures continue to drop, and with the assistance of his community affairs team he improved the police's relationship with the community and Shomrim.
In recognition of his outstanding work, Shomrim honored him with their Distinguished Leadership Award.
Joining Inspector Fitzgibbon in celebrating his award were Deputy Chief Charles Scholl, Inspector Frank Cangiarella and Lieutenant Ira Jablonsky – all of Patrol Borough Brooklyn South, as well as Deputy Inspector Norman Grandstaff, the new commanding officer of the 71st Precinct, along with Detective Vincent Martinos and Officer Larry Taylor.
Emceeing the event was Shomrim coordinator Mendy Hershkop, who first introduced Rabbi Moshe Bogomilsky, a member of Vaad Rabbonei Lubavitch and spiritual mentor to Shomrim, to say a Dvar Torah. With the holiday of Purim just days away, he asked the crowd "do you know who the first publicly acknowledged member of Shormim was?"
He went on to tell the story of Mordechai, who took a seemingly small action, telling the king of a plot he overheard to assassinate him, which ultimately lead to the miracle of Purim.
"He could have easily minded his own business, but instead he took action – not with [vigilantism] – rather by reporting the proper authorities," he said, "and this is the essence of Shomrim, to be the eyes and ears of the police, and when they see something they immediately report it."
Deputy Chief Charles Scholl spoke about his first interaction with Shomrim of Williamsburg in 1979. "They made more collars then I did," he quipped, adding that "the spread of Shomrim to neighboring communities is a tribute to the good work of Shomrim."
The coordinators of Shomrim then called up Inspector George Fitzgibbon and presented him with the Shomrim Distinguished Leadership Award.
"The 71st Precinct is really the crown jewel of the NYPD, and if I were to just stay here I would be a really happy man," he said. "I am really going to miss you guys."
Inspector Fitzgibbon acknowledged his community affairs team in helping make his time in the 71st precinct a success. He also acknowledged Deputy Inspector Norman Grandstaff, who "is really a great guy and the NYPD doesn't put people here without thinking."
He then thanked Shomrim again for the acknowledgment and the award.
A representative from New York State Senator Jesse Hamilton's office then presented him with a citation, honoring him for his exemplary service in the 71st precinct.
Rabbi Moshe Bogomilsky's Dvar Torah:
Deputy Chief Charles Scholl on Shomrim:
Inspector George Fitzgibbon on being honored by Shomrim: