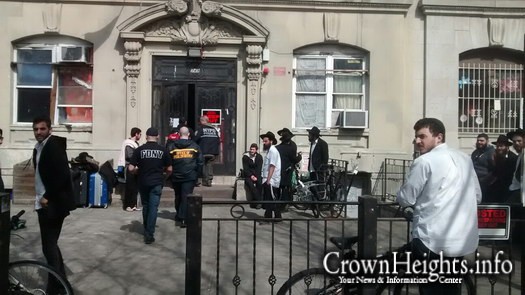 New York City building inspectors, accompanied by police officers, fire inspectors and representatives from the mayor's office of special enforcement, entered the 'Kvutzeh' dormitory at 749 Eastern Parkway in order to enforce and verify compliance of a recent vacate order.
Two weeks ago, building inspectors discovered a number of troubling safety hazards in the building, including bowed exterior walls and bricks falling out around windows – among many other issues, and issued a vacate orders for some 14 rooms and other areas of the building.
City officials said that negligence on the part of the building's legal owners – Central Lubavitcher Yeshiva – has reached a point where the building poses and imminent safety threat to its occupants, and raised the possibility that the city may confiscate and take over ownership of the building.
Over the past several years, '749' has become a hotbed of flaunting authority and lawlessness. The Yeshiva administrators threw up their hands and allowed the building to fall into utter chaos, racking up hundreds of thousands of dollars in fines for safety violations and illegal construction.
This prevailing attitude was in display over the past two weeks, as residents ripped down the notices and reentered the vacated rooms.
On Tuesday, inspectors with the Department of Buildings and the FDNY were accompanied by police officers and representatives from the mayor's office of special enforcement as they entered the building to verify compliance with the orders.
They then discovered that residents had altered the room numbers in an attempt to confuse the inspectors.
Sources told CrownHeights.info that city representatives informed the board of the Yeshiva that as the building owners they must ensure compliance with the vacate order, or they may face prosecution and repossession.
A locksmith, who said he was hired by the Yeshiva, was brought in and after figuring out which rooms were the ones vacated he changed the locks on the doors.
Once inspectors left, residents told CrownHeights.info that the rooms have already been broken into and reoccupied.
"How could they allow it to come to this?" asked an angry neighbor from an adjacent property; "how dare [administrators] neglect property of Tomchei Temimim to the point where it may get taken away?"
"And how can buildings department inspectors ignore so many violations, lack of fire extinguishers and self-connected gas and electric lines?" he said.