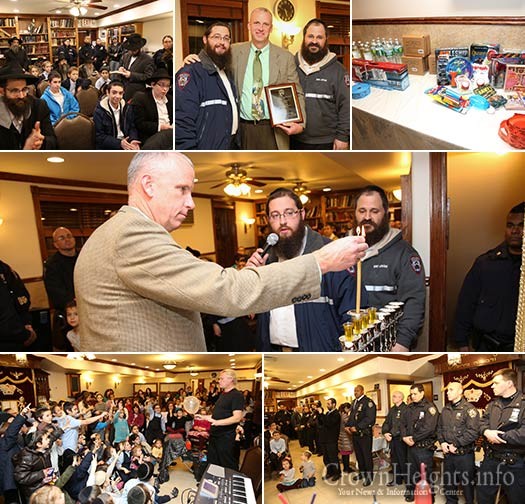 Retiring Commander Honored at Chanukah Party
Deputy Inspector Jack Lewis, a former commander of the 71st Precinct, who is retiring from the police force in the coming days, was honored by the Crown Heights Shomrim at a children's Chanukah event at Congregation Rayim Ahuvim-Tiferes Menachem.
Before the beginning of the children's event on the fourth night of Chanukah, parents and children watched as large group of police officers joined in with them to honor one of their colleagues.
Deputy Inspector Lewis, commander of the Brooklyn South Detectives Operations and former commanding officer of the 71st Precinct, who is retiring after a 28-year career with the NYPD, was honored with the lighting of the Shamesh, and the received an award from Crown Heights Shomrim – the neighborhoods volunteer patrol.
"Last year we met here during a difficult time for the NYPD" began Shomrim Coordinator Mendy Hershkop, referring to the cold blooded murder of two officers around the same time last year, "but today we are here together under much better circumstances, to honor the career of a beloved commander."
Together with Gadi Hershkop, they awarded Deputy Inspector Lewis with Shomrim's Distinguished Leadership Award, in recognition of the massive positive impact he had on the 71st Precinct following the difficult times which preceded him.
On hand were a number of officers from the precinct, along with their sergeant and lieutenant, David Salmon and James Vroman. Also attending was the Executive Officer of the 71st Precinct, Captain David Wall.
"It was great to come here, and you guys were kind of put on the shelf before I got here," said Lewis. "You do really great things for the community, and it was great to get you guys dialed back in and to do the things that you do."
"We made some really nice [arrests] with you while I was here as the CO," he added, "I say we, but it really is the men and women in blue that do the job every day, so please say thank you to them."
Lewis concluded by relating a bit about his career, which actually started in Crown Heights. "I started my career in [this neighborhood]. After graduating the [police] academy in July 1988, I had three tours in Crown Heights, once as a Police Officer, then again as a sergeant, and lastly as commanding officer. I just want to say thank you very much for the opportunity to work in this community."
On Lewis' last patrol, he was joined by his son John Lewis, also a cop in the 71st Precinct, and together they arrested two suspects in an armed robbery and recovered two handguns. "What a way to end a career," said Lewis.
Following the award ceremony, the children were treated to a special magic show and a raffle for a number of valuable prizes.