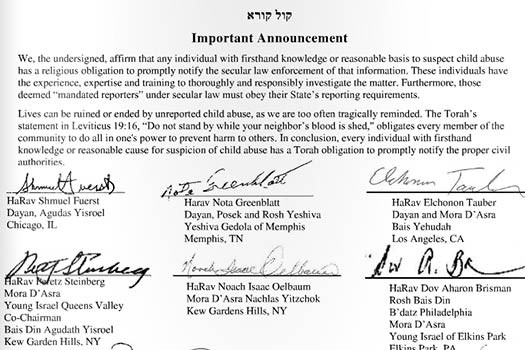 107 Rabbonim Sign Kol Koreh to Report Child Abuse
107 Rabbonim and Dayanim have signed a Kol Koreh [public proclamation] affirming the Halachic obligation of all Jews to immediately report and notify secular law enforcement when they know of an instance of child abuse.
The Kol Koreh is a historic watershed, due to its unprecedented, broad-based support from a large number of Rabbonim.
Some of the signers include Rabbi Nota Greenblatt, dayan, posek, and rosh yeshiva of Yeshiva Gedola in Memphis; Dovid Goldwasser, rav of Bnei Yitzchok in Brooklyn; Rabbi Dov Aharon Brisman, rosh beis din of B'datz Philadephia; Rabbi Peretz Steinberg, co-chairman of Bais Din Agudath Yisroel in Kew Garden Hills; Rabbi Yisroel Meir Kagan, rosh yeshiva of Yeshiva Toras Chaim; Rabbi Noach Isaac Oelbaum, rav of Nachlas Yitzchok in Kew Gardens Hills; Rabbi Kalman Epstein, rosh yeshiva of Yeshiva Shaar HaTorah in Queens; and Rabbi Shmuel Fuerst, dayan of Agudas Israel of Illinois, who was heavily involved in putting the kol koreh together.
The Kol Koreh Reads:
"We, the undersigned, affirm that any individual with firsthand knowledge or reasonable basis to suspect child abuse has a religious obligation to promptly notify the secular law enforcement of that information. These individuals have the experience, expertise and training to thoroughly and responsibly investigate the matter. Furthermore, those deemed "mandated reporters" under secular law must obey their State's reporting requirements.
Lives can be ruined or ended by unreported child abuse, as we are too often tragically reminded. The Torah's statement in Leviticus 19:16, "Do not stand by while your neighbor's blood is shed," obligates every member of the community to do all in one's power to prevent harm to others. In conclusion, every individual with firsthand knowledge or reasonable cause for suspicion of child abuse has a Torah obligation to promptly notify the proper civil authorities."
The complete Kol Koreh and signatures can be viewed by Clicking Here