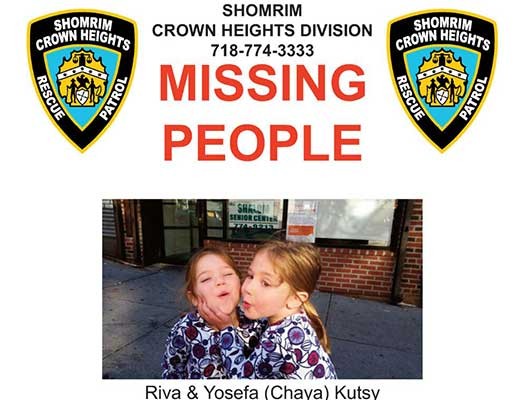 Authorities Mounting Desperate Search for Missing Family
Crown Heights Shomrim and the NYPD have begun an extensive search for a missing family who have not been heard from or seen since January 31st 2015. Authorities are seeking information regarding the whereabouts of the Kutsy family along with their two daughters.
UPDATE: The family has been located and they have turned themselves in.
Authorities have not released any info besides the names of the parents, Alan Velvel Kutsy and Chana Yehudis Kutsy, and their children Riva (4) and Yosefa Chaya (3), have last been seen Saturday, January 31st 2015.
Both Crown Heights Shomrim and the NYPD Detective Squad are seeking information regarding their whereabouts and are in fear for their safety.
A lot of misinformation is being spread both in messaging apps and social media. According to the authorities the family is still believed to be missing and anyone with information as to their whereabouts, or of the family is reading this, they are asked to contact Shomrim or the 71st Precinct Immediately.
The number for the Shomrim Hotline is (718 774-3333 and for the 71st Precinct is (718) 735-0511