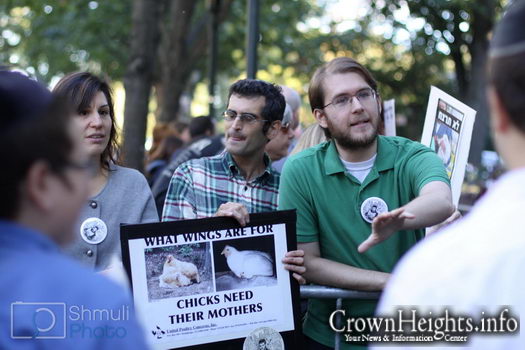 Illustration photo
Animal Rights Activists Protest Kaporos
Last night, as hundreds of Jewish families gathered to perform the pre-Yom Kippur atonement ritual of Kaporos in Crown Heights, animal rights activists screamed "Murderers!" and waved signs of protest from behind a barricaded portion of Eastern Parkway.
From The Gothamist:
"I believe this is wrong. It's animal cruelty," said Park Slope resident Michael Dolling, 26. As feathers collected on the asphalt and the air filled with cacophonous squawking, Dolling took a five dollar bill from his pocket and purchased a chicken that had been just used for Kaporos with the intention of taking it to a farm animal refuge upstate. "I feel terrible not giving just $5 to save one life," she said.
"I go to wherever the masses are congregating at and speak up for animals and animal rights. I'm not targeting the Jews, it's got nothing to do with religion, it's purely a matter of animal rights."
Most of the participants at last night's gathering paid no mind to Dolling and the other protesters, and concentrated on the ritual itself. "This is the Torah that came down from God to Moses. We don't write the Torah, we follow the commandments," said Shmuel Spielman.
Spielman, 47, lives in Crown Heights and saw no issue with the hoisting of the live chickens, and was upset by protesters' screams and accusations. "They're being brainwashed, they don't know the whole story. If they read the Torah and know where it's coming from, they'll see that we don't make this up," he said.