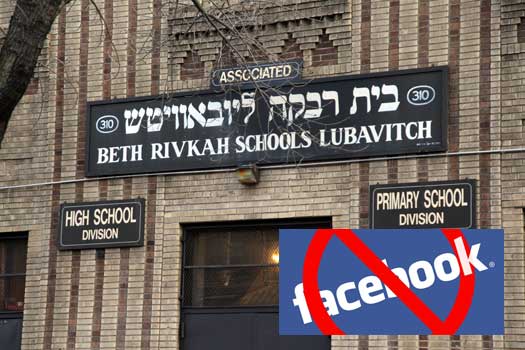 There was much commotion and confusion in the halls of Beis Rivkah High School today, as the school administration cracked down on the possession of Facebook accounts by students.

Every girl in the 11th grade who possessed a Facebook account – about half the girls in each class – was individually removed from class and given a slip of paper with an ultimatum: delete the account entirely and pay a $100 fine, or face expulsion from the school.
A number of students and parents are especially upset about the move, claiming that the students had been encouraged by the school administration to create Facebook accounts the previous year, in order to vote for Beis Rivka in the Kohl's charity giveaway. The school administration, however, says that they only encouraged the parents of students to create accounts for the vote – a fact that is disputed by the students.
A school administrator, who spoke to CrownHeights.info on condition of anonymity, said that the purpose of the crackdown was to restore a certain level of Tznius that had been lacking among the girls, as Facebook accounts had been cited as a contributing factor to the decline of Tznius standards by many Mashpi'im and Educators.
It seems that today's sweep was aimed only at the 11th grade; there is no word yet on whether similar action is being planned for the other grades in the high school.