Illustration Photo: Oholei Torah Zal group portrait.
Yeshiva Institutes Changes; Mashpiim Issue Statement
Mounting pressure and public outcry finally lead to Oholei Torah's Mashpiim distancing themselves from 'self awareness' group • Yeshiva administration issues memo prohibiting staff members from referring students to outside help without prior permission • Schools worldwide prohibit their students from attending Oholei Torah functions until clarification is issued
Since first coming to light, many more details have emerged regarding the Call of the Shofar movement and just how embedded it had become within the Crown Heights Chabad community and its schools. Most troubling: the roots it had taken within Crown Heights' largest boys' school, Oholei Torah, and revelation that certain staff members had sent many students to these 'retreats' and convinced several fellow staff members to attend themselves.
Last week an urgent gathering took place at Oholei Torah in order to address this troubling phenomenon. Over two thousand community members were in attendance, and several thousand more tuned in to a live webcast of the event.
Curiously present on the dais were the very Oholei Torah Mashpiim who were known to have both attended and sent students to the retreat. They remained publicly silent on the topic, until this Friday, when a letter was released carrying the names of 8 Mashpiim, including: Rabbis Nachman Schapiro, Sholom Charitonov, Shlomo Sternberg, Pinchas Korf, Yekusiel Feldman, Levi Yitzchok Matusov, Yosef Yitzchok Pevzner and Schenor Zalman Vilenkin, in which all the signatories publically distance themselves from the Call of the Shofar.
But the letter raises more questions than answers, and falls short in addressing the public's concerns.
The letter takes a clear stand against the Call of the Shofar, an apparent 180 degree turnaround, and denounces the organization as "eating from the fields of others" while maintaining that "there is only one conduit for chassidim and mekushorim."
Notably absent from the letter are the names of the Rosh Yeshiva of Oholei Torah Zal, Rabbi Yisroel Friedman, as well as the director of the school, begging the question: Who was really behind the letter and what was its sudden motivation?
Calls to officials in Oholei Torah seeking to verify the letter's authenticity were not answered or returned, but sources within the school wondered: "Who gave the undersigned permission to issue a public statement that was not approved by school's executive director or its board of directors?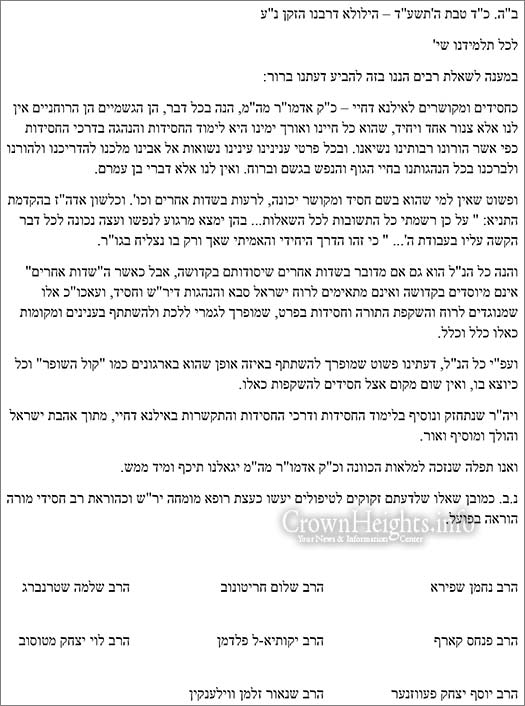 Other Yeshivos Prohibit Students from Attending Yud Shvat Shabbos Seudah Hosted by Oholei Torah
A screenshot of an email has been circulating which appears to be a response from an out of town Rosh Mesivta to a staff member of Oholei Torah. The writer says that "it is not shayech (possible) to send Bochurim to be mishtatef (participate) in any Seudah/Farbrengen that [Oholei Torah] hosts" until the Yeshiva takes a public stand "on the recent Meshugas."
This email came in response to an invitation that was sent out by Oholei Torah inviting all the Yehivos to attend a Seudas Shabbos in Oholei Torah on the Shabbos of Yud Shvat, which is when the Kinus Hatmimim Haolami takes place with thousands of Bochurim from around the world in attendance.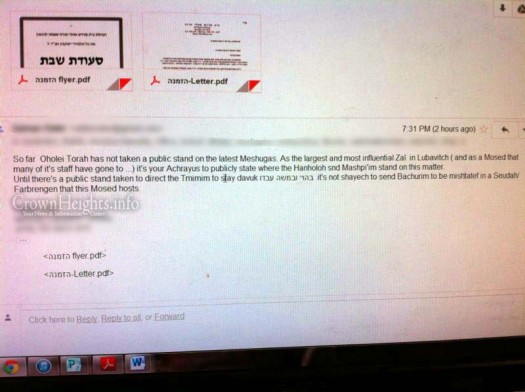 Internal Memo
Last week an internal memo was distributed to all staff members in Oholei Torah prohibiting any teacher from referring a student to outside counseling or therapy without authorization. The memo was signed by Rabbi Joseph Rosenfeld and was printed on the stationary of Oholei Torah.
The letter says that after a meeting of the Yeshiva's board of directors, a new policy is instituted that should a rebbe, morah, maggid shiur or mashpia feel it necessary to send a student to counseling with an outside organization or even a mashpia, they would need written approval by a direct dean or principal as well as another staff member.
The letter signs off that this new rule is of the utmost importance and will be strictly enforced.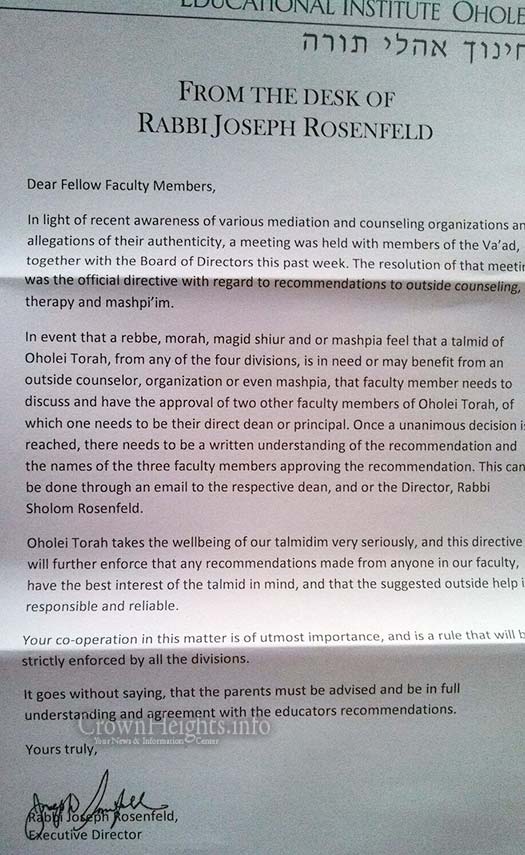 Rabbi Sternberg Requests to Make a Public Apology
Sources told CrownHeights.info that Rabbi Shlomo Sternberg approached the organizers of last week's gathering and asked that he be allowed to publicly apologize to the community.
Rabbi Yoel Kahn decisively refused this request, saying that the gathering is not about Rabbi Sternberg or the Call of the Shofar, rather it is about strengthening the community. Reb Yoel added that Rabbi Sternberg needs to pen his own letter and apologize to his students and the community.
When Will the Other Shoe Drop?
In light of Friday's letter, many were left wondering when in fact Oholei Torah will issue an official public statement and clarify what steps were taken in response to this 'breach of trust.' While no official comments were made, sources tell CrownHeights.info that it is forthcoming and should be expected very soon.