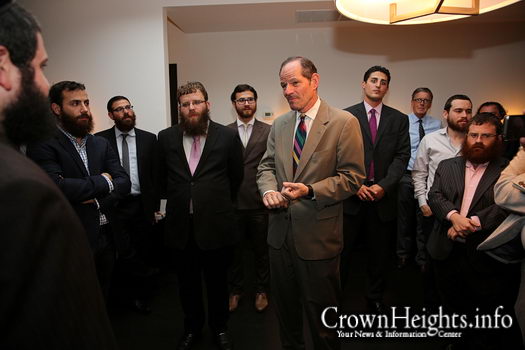 Eliot Spitzer Courts Young Crown Heights Voters
Crown Heights [CHI] — Several dozen members of the Crown Heights Jewish community gathered tonight, August 26, at the Basil Pizza & Wine Bar to meet with Democratic candidate for New York City Comptroller Eliot Spitzer.
Mr. Spitzer previously served as attorney general and governor of New York State, before a scandal forced his resignation.
He was invited to make his case before voters in the Crown Heights community by a committee headed by activists Shlomie Hecht, Mendy Margolin and Yossi Rapoport, who coordinated the event along with Rabbi Yaacov Behrman.
Mr. Spitzer arrived at the restaurant at about 6:45pm. He was introduced by Rabbi Behrman, who welcomed him on behalf of the 25 Crown Heights synagogues participating in the event.
Rabbi Behrman emphasized Mr. Spitzer's record as A.G. and governor, where he was known by the nickname 'sheriff of Wall Street," and argued that he is better qualified than his opponents to do the job of New York City comptroller.
After the introduction, Mr. Spitzer spoke to the crowd, laying out his vision for the city and his plan of action once elected to office.
A question and answer session followed, during which a few attendees pressed Mr. Spitzer for his position on several issues – most notably school vouchers. (Mr. Spitzer said they are not legally feasible.)
The event was especially well attended by young professionals in the Crown Heights Jewish community, and several members of Brooklyn's Satmar and Bobov communities were also spotted in the crowd.
A confidential source told CrownHeights.info that the organizers of the event received a harshly-worded e-mail from nationally syndicated talk-show host Michael Savage, who berated them for supporting Spitzer as Orthodox Jews, given his scandalous past.
The organizers politely responded that Mr. Spitzer openly regrets his past shortcomings, and if voters believe he is better suited for the job, his personal history should have no bearing on the matter.