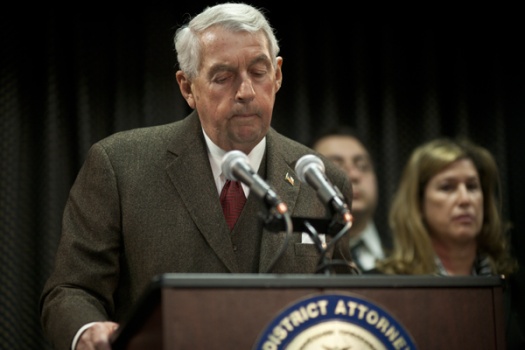 Brooklyn District Attorney Charles Hynes
As Re-election Fight Looms, Brooklyn DA Releases Partial List of Child Abusers
Despite much criticism from victims and activists, Brooklyn District Attorney Charles Hynes has for years steadfastly refused to publish a list he keeps of hundreds of accused pedophiles in the Brooklyn Jewish community. Now facing viable opponents in his re-election bid for the first time in years, Hynes relented – somewhat – and released the names of a few dozen convicted abusers.
Sunday morning the New York Post published a list, released by the DA's Office, of 46 convicted child abusers who 'terrorized the orthodox Jewish community from within'. The Post wrote that the publication was "a major shift from his prior stance" of shielding the names of abusers. The list contains only the names of those who have been convicted or have pled guilty.
But some of the names on the list raised eyebrows, leaving the gnawing question: 'is this an election ploy?'
Most of the criticism toward Hynes focused on the identities of accused pedophiles that were kept secret as part of the controversial Kol Tzedek program, which is geared toward prosecuting child molesters in the orthodox Jewish community. Hynes maintained that outing the accused and convicted perverts could expose the victims to vicious intimidation or deter others from coming forward.
Victims and their advocates have been vehemently condemning this practice, accusing the DA of pandering to powerful 'lobbies' within the Jewish community who sought to protect the accused predators by shielding their names from the public.
Mr. Hynes has made claims that Kol Tzedek is responsible for prosecuting 'hundreds' of accused predators, leading to 'many convictions'. However, with the list containing only 46 names, many are left wondering 'what is really going on with this unit?'
Furthermore, two of the names on Hynes' list, both non-Jewish African-Americans, raised eyebrows in the CrownHeights.info newsroom, as well as with the coordinators of the Crown Heights Shomrim.
Frankie Hatton, then 21, terrorized Crown Heights women back in July 2009 by roaming around the neighborhood and groping them. He was apprehended thanks to the work of CrownHeights.info – who had obtained surveillance video – which then led to his identification and subsequent arrest.
Bjorn Daley, then 31, assaulted and groped two young girls in June 2010. Thanks to quick work by 71st Precinct detectives, he was identified, charged and convicted of the assaults. Once again surveillance video obtained by CrownHeights.info (which depicted the actual attack, and was therefore not published) played a role in his identification.
Both of these convicted perverts, who preyed on women and young girls, should not have had any connection with Hynes' Kol Tzedek unit. Hatton and Daley would not have needed – even according to the mission statement of Kol Tzedek – to have their identities shielded for the 'protection' of their victims.
The office of the District Attorney declined to comment "about any specific name on the list," when contacted by CrownHeights.info.
"It is a shameful pre-primary publicity stunt," said Abe George, a former Manhattan prosecutor who is one of two contenders for the office of the Brooklyn district attorney. "This shows that [Hynes] is over-blowing the strength of the Kol Tzekek unit, which is ineffective at handling the problem in the orthodox Jewish community."
Mr. George reiterated that he believes this is a cheap political stunt. "For years [Hynes] has not released these names, and now, right before the primaries, he goes ahead and releases them. I think it is obvious that Hynes will do whatever is politically expedient for him."
The 78-year-old Hynes has been occupying the office of the district attorney for six terms, and is now seeking a seventh. Hynes has responded ruthlessly to potential opponents in the past. John O'Hara and Sandra Roper both challenged Hynes in previous elections, and he later had them prosecuted: O'Hara for voting in the wrong district – a rarely enforced felony, and Roper for stealing from a client – which she was not convicted of. In other elections Mr. Hynes ran unopposed.
Another viable contender in the democratic primary this September is Kenneth P. Thompson, himself also a former prosecutor
This year's Democratic primary will take place on September 5th. Registered Democrats will choose which candidate will run for election in November on the Democratic ticket.
The New York City general elections will take place on Tuesday, November 5th. Voters will choose a new Mayor, a District Attorney and representatives for City Council.
The list:
Simon Lemmer, 2nd Degree Criminal Sexual Act
Moshe Spitzer, 2nd Degree Criminal Sexual Act
Yona Weinberg, 2nd Degree Sexual Abuse; Endangering the Welfare of a Child
Stefan Colmer, 2nd Degree Criminal Sexual Act
Joel Pinter, Endangering the Welfare of a Child
Shlomo Tourjman, 2nd Degree Course of Sexual Conduct Against a Child
Nathan Actman, Sexual Misconduct
Boris Shaulov,, two counts 3rd Degree Rape; 3rd Degree Criminal Sexual Act; Endangering the Welfare of a Child
Constantine Kotzalides, First Degree Sexual Abuse
Fredy Conde, 1st Degree Sexual Absue
Simon Benisty, 1st Degree Sexual Abuse
Yaakov Maimon, 1st Degree Sexual Abuse
Bjorn Daley, 2nd Degree Attempted Kidnapping
Solomon Marmorstein, Attempted Endangering the Welfare of a Child
Sheldon Siller, 2nd Degree Criminal Contempt
Tzvi Boxer, 1st Degree Course of Sexual Conduct
Joseph Passof, 1st Degree Sexual Abuse
David Klausner, 2nd Degree Criminal Sexual Act
Emanuel Yegutkin, 1st Degree Course of Sexual Conduct Against a Child
Michael Sabo, Predatory Sexual Assault Against a Child
Andrew Goodman, 2nd Degree Criminal Sexual Act
Meir Dascalowitz, 2nd Degree Criminal Sexual Act
Nechemya Weberman, 1st Degree Course of Sexual Conduct Against a Child
Yosef Donin, 2nd Degree Course of Sexual Conduct Against a Child
Hector Valerdi, 1st Degree Sexual Abuse
Jacob Kaff, 2nd Degree Course of Sexual Conduct Against a Child
Menachem Deutsch, 1st Degree Sexual Abuse
Arthur Samet, Endangering the Welfare of a Child
Israel Nivazou, Attempted Forcible Touching
Frankie Hatton, Forcible Touching
Chaim Becker, 3rd Degree Sexual Abuse
Moshe Keller, Endangering the Welfare of a Child
Jedrych Macie, Endangering the Welfare of a Child
Moshe Vaisfiche, Endangering the Welfare of a Child
John Pilieci, Endangering the Welfare of a Child
Eli Belili, Endangering the Welfare of a Child
Nuchum Hammerman, Attempted Endangering the Welfare of a Child
Robert Mannis, Endangering the Welfare of a Child