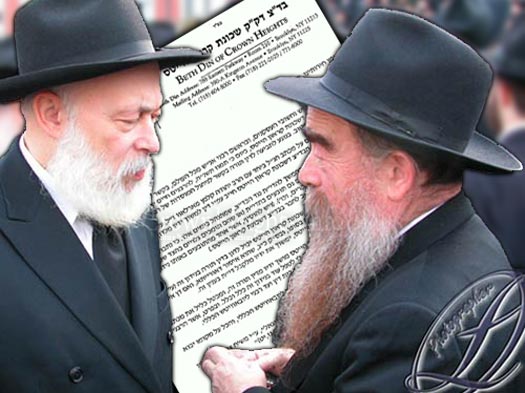 In the storm of emotions following the Rebbes Passing on the 3rd of Tammuz in 5754, a group of over 30 individuals in Crown Heights, took it upon themselves to summons the administration of Merkos L'inyonei Chinuch, and Agudas Chasidei Chabad to a Din Torah before the Crown Heights Beis Din, over what they alleged was matters pertaining to a will supposedly left behind by the Rebbe.

In a letter dated Pesach, 5770 Rabbi Avrohom Osdoba writes that he was approached by many member of Anash and Askonim regarding the letter dated the 20th of Tamuz 5755, declaring "refusal to adhere to din" against Rabbi Chaim Yehuda Krinsky and Rabbi Avrohom Yitzchok Shemtov, seeking that the letter be rescinded and retracted.
Rabbi Osdoba, who is signed on the letter with with Rabbi Kalman Marlow OBM, goes on to clarify that "for obvious reasons the Badat"z much, according to Din, pull its hands from dealing with this matter," the letter goes on to say that with the din torah [currently] going on in the matter of the Vaad Hakohol and Beis Din, that it became clear that a large number of the plaintiffs are plaintiffs in this case as well, or are open supporters of those who are against [me], among those are Rabbi Yaakov Aharon Schwei who himself is a part of the Beis Din.
The letter concludes saying that based on all this the "refusal to adhere to din" letter is hereby nullified and completely cancelled, "especially after the defendants expressed many times that they are willing to appear before Vaad Rabonei Lubavitch."
Sources familiar with the particulars maintained that Rabbis Krinsky and Shemtov never should have been called before the Crown Heights Beis Din because they have no jurisdiction over these moisdos, and they lay solely on Vaad Rabonei Lubavitch, an opinion which Rabbi Osdoba declared to be correct in his letter.
This appears to be yet another step towards peace an harmony that has eluded our community for so many years.
Yet there are those who seek to derail this effort.
On a news website, blatantly aligned with those against Aguch, Merkos and Rabbi Osdoba, they posted a part of the Psak Din implying that this move goes against it.
The psak says "16) from when there were two Rabbonim serving as member of the Beis Din, any of their decisions made without the agreement of both Rabonim it does not take effect" there is also a footnote which clarifies, "the intention is only pertaining to public matters such as those of rabbinical and communal matters which stem from their power as a Beis Din of the community. Though Piskai Din pertain to private Din Torahs its it obvious that they hold effect."
"Whenever something good comes together there are always those that will seek to destroy it" said a involved source, who added "now that its been removed they are welcome to go and put it back themselves, if a machloikes is all they want. Additionally the letter has been released before the psak din"