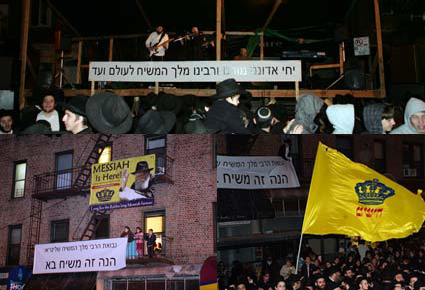 CROWN HEIGHTS, Brooklyn [CHI] — Seeing Reb Yisrolik Shemtov pleading with police for help and protection of the stage of Simchas Beis Hashuaiva was a sad sight. Shemtov was told by the police that they cannot get involved in "inter-community politics". They said "we do what we can to accommodate the event and that's all."

On Thursday night, when Avraham Fried performed on stage, the speakers were tampered with and wires were cut mid-performance, and later the power was cut to the entire sound system, abruptly ending Fried's performance.
When the person who cut the speaker wires was asked why he did it, he answered in Hebrew "because he is not singing Yechi."
Earlier that evening a number of (Tzvati) Bochurim climbed over the barriers and nailed a Yechi banner to the front of the stage and stood guard over the sign.
Reb Yisroel Shemtov started Simchas Beis Hashuaiva in 1981 after the Rebbe spoke in a Sicha about the significance of dancing in the streets, and that year the dancing took place on Montgomery Street in front of the Katzman home, and the following year the event moved over to the corner on Kingston.
Eight years ago Shemtov was shoved off the stage by Betzalel Kupchik and was seriously hurt, breaking his arm and subjected to a long and agonizing healing process. Determined not to stop the Simcha of Simchas Beis Hashuaiva he continued the tradition in front of 770.
After being elected to Vaad HaKohol Moshe Rubashkin worked tirelessly on an agreement which ended Shemtov's reluctance to return to Kingston Avenue and have just one Simchas Beis Hashuaiva. The agreement was a compromise, Shemtov runs the show from when it begins until 2:00am, and from then to 6:00am ran by Rubashkin. For the last eight year that was the arrangement.
Motzoai Shabbos, police were kind enough to place two police officers behind the stage to keep the area clear, but their instructions were clear, not to get involved with removing signs or flags. The Yechi sign from Thursday night was reaffixed to the front of the stage before the music began, only in a more obnoxious way, covering a portion of the performers, and Shemtov was unable to remove the sign on his own, out of fear for his saftey.
Many Crown Heights residents expressed outrage over this blatant attempt by a small group of (imported) fanatics that try and enforce their own ideas and beliefs on the community. One resident said that "with total disregard for decency they make a complete chilul Hashem and are mevazeh shem Lubavitch."