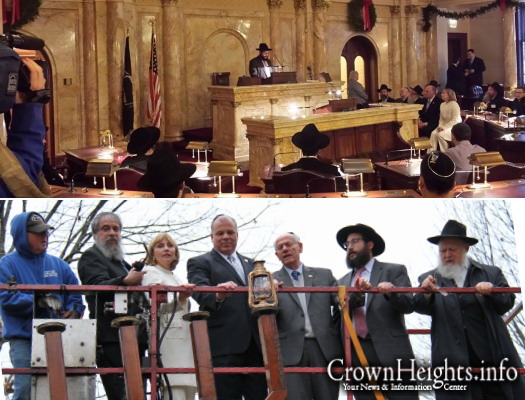 For the 34th year in a row, the Rabbinical College of America and Chabad of NJ coordinated a Menorah Lighting at the New Jersey Statehouse.
Participating in the lighting was Lt. Governor Kim Gaudango and Senate President Steven Sweeney.
Prior to the lighting, many of the 80+ Shluchim from across the state gathered with community members, elected officials, and guests in the Senate chambers for a performance by the Abrams Academy, and were addressed by the Lt. Governor and the Senate President.
In his remarks, Mr. Sweeney noted his close friendship to Chabad, and said "It has been my honor to partake of this ceremony for many years, I joined this event because we all need to learn more about each other, and Chabad helps you learn about the beautiful traditions of Judaism."
Afterwards, Jacob Toporek, Executive Director of the State Association of Jewish Federations, brought greetings on behalf of the Federations, and Rabbi Mendy Herson, Executive Director of Chabad of Basking Ridge, spoke on behalf of the Shluchim.
Rabbi Herson, who also serves on the Executive board of Merkos, remarked that "as one who grew up his entire life in New Jersey, I have witnessed the continuous support and friendship of the New Jersey leadership. This is so important, especially when you take into consideration how historically governments were not in support of the Jewish communities.
The event was emceed by Rabbi Avi Richler, Executive Director of Chabad of Gloucester County, a good friend of Sen. Sweeney. Turning to the Lt. Governor and Sen. Sweeney, he concluded the event by encouraging them to take the message of the Menorah by continuing to grow, to learn even more about Judaism, and develop an even deeper connection to the Jewish community.