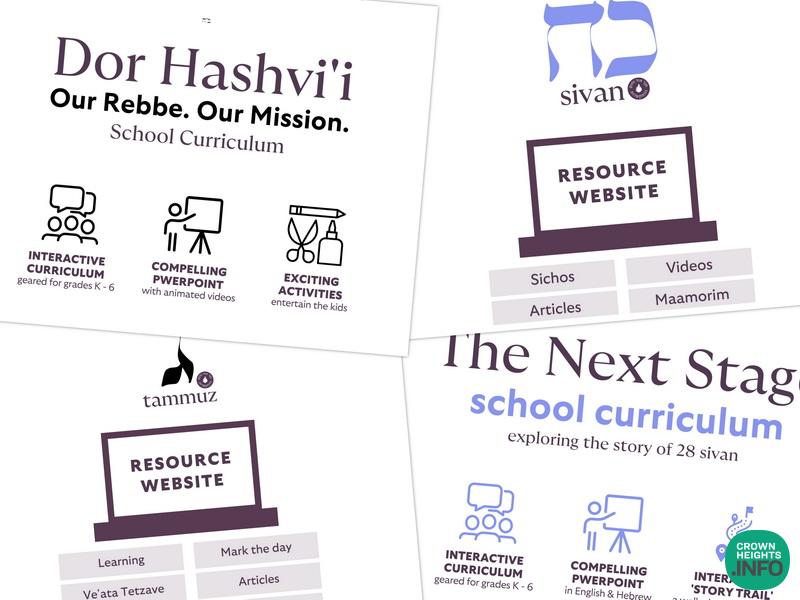 Exciting and Interactive School Curriculums For Chof Ches Sivan and Gimmel Tammuz
As the days of Chof Ches Sivan and Gimmel Tammuz swiftly approach, Or Vechom Hahiskashrus is pleased to once again offer exciting and interactive school curriculums to assist teachers and principals to educate their students on the significance of these important days.
Chof Ches Sivan:
"A New Stage," developed by expert Mechanchim, is a great way for teachers to educate their Talmidim about the special significance of Chof Ches Sivan. The curriculum, which delves into the story and significance of the day, can be used in two ways; it can be taught in the classroom as a lesson or printed out as a walkthrough/story trail.
The curriculum consists of two parts:
The Miraculous Journey – Telling the story of the Rebbe and Rebbitzen's travels through Europe and coming to America. This will be a video with narration for children.
"Chatzi Kador Hatachton" – Explaining the deeper meaning of the Rebbe's coming to America and of Chabad establishing itself on the "lower part of the world," America. This section will be presented by the children.
To see samples, sign up, and learn more about this offer, click here.
To assist you, your family, and your community in celebrating this auspicious day, we are pleased to share our Chof Ches Sivan resource site! Check out OrVechom.com/28Sivan for curated resources and new multimedia content for the entire family!
Gimmel Tammuz:
For many educators, it can be challenging to find an organized age-appropriate way to teach students about the Rebbe; how to connect with him, and stay focused on the mission he gave us. To this end, we are pleased to once again offer the Dor Hashvi'i curriculum that will give teachers an engaging framework to teach these important subjects to their students.
The curriculum is split into two 45-minute lessons on the topics of 'Our Rebbe,' and 'Our Mission.' These topics explore what the Rebbe means to us as Chassidim and how we can attain the goal that the Rebbe has set for us to accomplish. Each lesson comes with a detailed teacher's Guide, animated Video, interactive activity, short video clips of the Rebbe speaking on the topic, and a PowerPoint presentation to accompany the lesson.
To see samples, sign up, and learn more about this offer, click here.
Log on to OrVechom.com/Hachana for a plethora of resources connected to Hiskashrus and preparing for Gimmel Tammuz.
For more information, email us at Office@OrVechom.com.