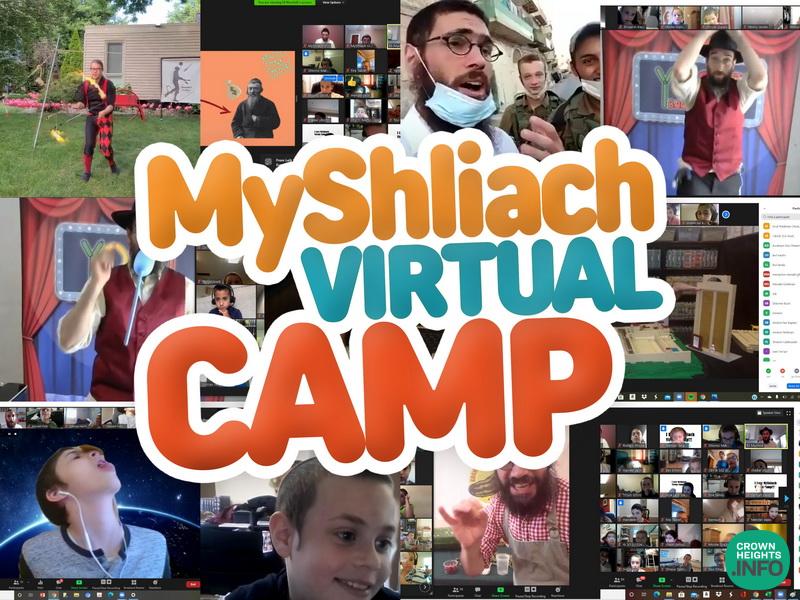 MyShliach Virtual Camp Opens Registration for 4th Summer
MyShliach is thrilled to announce the opening of registration for its 4th annual MyShliach Virtual Camp. Initially started as a response to the pandemic, MyShliach at Merkos 302 launched a new style of camp that challenged the norms of standard programs.
In an all virtual setting, young Shluchim were engaged in an interactive program looking forward to joining each day from the comfort of their homes. The program which is geared towards yaldei HaShluchim who live in communities where they may not have the opportunity to engage with other peers their age, provides the kids with an opportunity for them to develop meaningful relationships with both fellow campers and staff all in a chassidishe camp environment.
Last year the camp, which offers separate programs for boys and girls, successfully accommodated a total of 350 Yaldei Hashluchim, receiving overwhelmingly positive feedback from both campers and parents. One parent, Rabbi Mendel Greisman from Rogers, Arkansas, expressed, "A couple of days ago, my son came over to me saying, 'you know Tatty, MyShliach Virtual Camp is the best camp in the world.' To me, that sums up what MyShliach does in one sentence, and our children truly appreciate it!".
Building on three years of experience, organizers have been planning various additions that are set to bring the program to a whole new level. The half-day program, running from 10:00 AM to 12:30 PM ET, will feature a diverse range of innovative activities, including davening, crafts, live entertainment, games, and much more all presented in a fun and engaging manner. Split up by grade, the program allows for age appropriate activities for each grade as well as more personalized attention from the staff members and counselors.
"Our staff expend a lot of effort in creating a hands-on interactive program with various projects and arts-and-crafts so that the children are actively engaged in the camp experience all while learning new Torah concepts," says Rabbi Mendy Shanowitz, director of MyShliach at Merkos 302.
One exciting feature which is new for this year's camp is "Camp-in-a-Box", which will be included with registration. The "Camp-in-a-Box" will provide campers with various camp-related items, further enhancing their summer experience and immersing them in the camp atmosphere.
The MyShliach Virtual Camp is open to children from kindergarten to 4th grade.
Dates:
Session 1: July 3rd- July 14
Session 2: July 17- July 28
Registration for the MyShliach Virtual Camp's 4th summer is now open, and interested families are encouraged to visit www.myshliach.com/camp to secure their child's spot for the coming summer.
Pending interest from parents, MyShliach is considering opening an additional program time slot in Pacific Daylight Time (PDT).
For information regarding a special camp track opened to everyone, including non-Yaldei Hashluchim, email Camp@myshliach.com