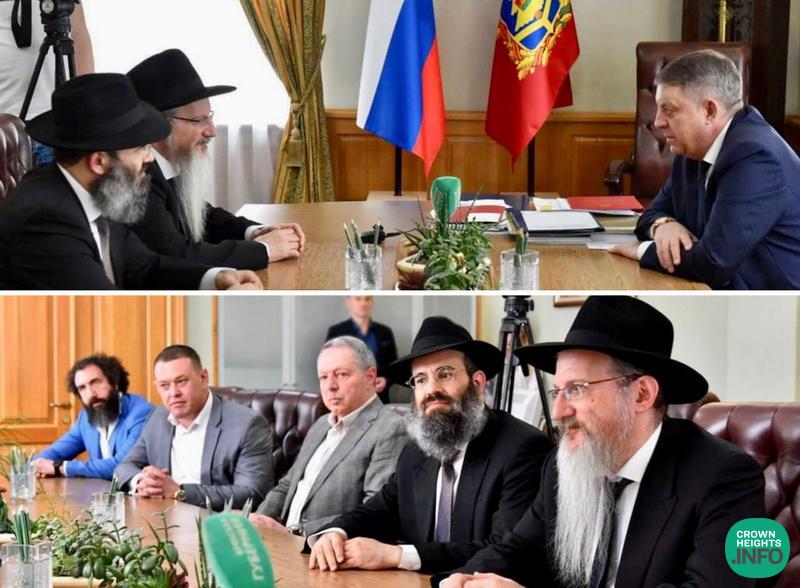 In Honor of Shavuot, Chief Rabbi Lazar Visits Jewish Bryansk
Welcomed by hundreds of community members and guests, the Chief Rabbi of Russia Berel Lazar paid a formal visit to the Jewish Community of Bryansk in anticipation of the Shavuot holiday. During his visit, he toured the city's historic Synagogue which was recently re-inaugurated, its varied institutions, and personally met the Governor of the Bryansk region, Mr. Alexander Vasilievich Bogomaz.
After being unable to participate in the community's historical event back in March, Rabbi Lazar arrived at the community for a special and uplifting visit during which he participated in a series of events attended by community members, businessmen, and dignitaries.
The highlight of Rabbi Lazar's visit was the tour of the synagogue, which is considered to be one of the most magnificent in Russia. Rabbi Lazar was accompanied on the tour by the city's Chief Rabbi Mendy Zaklas and delivered a special keynote speech in front of the excited community members. He also attended a gathering of Jewish businessmen from the region.
During his visit, Rabbi Lazar held a formal meeting with the Governor of the Bryansk region Mr. Alexander Vasilievich Bogomaz. During the meeting, the issue of further developing the Bryansk community and ensuring its future prosperity was discussed. The meeting was also attended by the Chief Rabbi of Bryansk Mendy Zaklas, the Chairman of the Jewish Community Mr. Lev Linkov, Mr. Alexander Polugaevsky, and Mr. Mikhail Belalov.