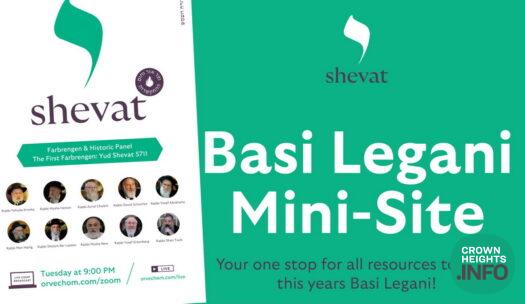 Historic Panel and Farbrengen Marking 73 Years of the Rebbe's Leadership
Or Vechom Hahiskashrus invites all Chassidim to a historic panel and Farbrengen marking 73 years of the Rebbe's leadership.
The program, 'Dor Hashvi'i: Our Merit, Mission, and Shlichus,' will feature Chassidim who merited to be present on Yud Shvat 5711, and at the beginning of the Nesius, who will share their personal experiences. Among them will be Rabbi Yehuda Krinsky, Rabbi Moshe Herson, Rabbi Azriel Chaikin, Rabbi Dovid Schochet, Rabbi Yosef Abrahams, Rabbi Meir Harlig, and Rabbi Sholom Ber Lipskar.
Also speaking will be Rabbi Moshe New and Rabbi Shais Taub, and emceeing the event will be Rabbi Yosef Greenberg.
The program will be followed by an inspirational farbrengen with Shluchim and Mashpi'im.
The Farbrengen will take place on Tuesday night, the eve of Yud Shvat, 5783 at 9:00 PM ET.
You can join on zoom at OrVechom.com/Zoom or live on youtube OrVechom.com/Live.
For a full Yud Shevat resource site, visit YudShevat.org. For resources to assist you in learning this year's Basi Legani, visit OrVechom.com/BasiLegani