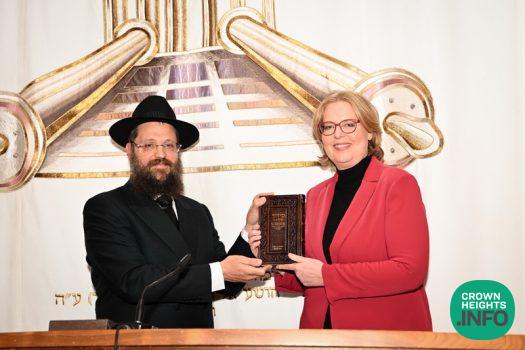 The Message is "Judaism Belongs to Germany"
In the run-up to the High Holidays, Chabad Berlin celebrated at a New Year's reception with guests from culture, society and politics. Chairman of the Chabad Berlin community and Rabbi of Berlin, Yehuda Teichtal, said, "The message is that Judaism belongs to Germany. When we celebrate our holidays with public figures, they spread this message with us." 
And the rabbi, in the presence of Bundestag President Bärbel Bas, Federal Minister Christine Lambrecht, Israeli Ambassador Ron Prosor and the President of the Berlin House of Representatives, Dennis Buchner, announced the surprising news that the Chabad Berlin community will soon begin construction of a new synagogue.
He said that it is a great sign that Judaism has arrived in Germany and Berlin and continues to flourish. Only a few years ago it was unthinkable that Jewish refugees (from Ukraine) would find a safe haven in Germany. The Chabad Berlin community had taken in several hundred Jewish refugees, including an orphanage from Odessa, after Russia's attack.
In his speech, Ambassador Ron Prosor called Rabbi Teichtal Chabad's "secret weapon" and praised the services of Chabad Berlin. President of the Berlin House of Representatives Dennis Buchner added: "We want a visible Jewish life in the city."
Atmospheric piano music, kosher catering and traditional shofar blowing rounded off the evening.