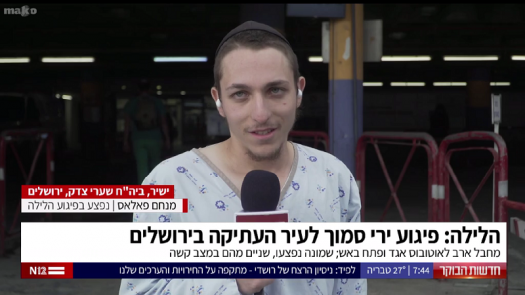 Crown Heights Resident Among Those Injured in Yerushalayim Shooting
by CrownHeights.info
One of the eights people injured in a shocking attack on a bus near the Kosel Motzei Shabbos has been identified as Crown Heights resident Menachem Palace.
Palace, who gave an interview with the Israeli media, said that he and a friend were on a Birthright trip and had boarded the bus, Palace sitting next to the window.
When the attack began, Palace said that the window shattered, and he and his friend dropped to the floor. Only later, after the attack ended, did he realize that he had been shot in the back.
He was transported to Shaarei Tzedek Hospital where he was treated for his injuries and had the bullet removed.
In the interview, Palace doubled down, sharing his plan to stay in Eretz Yisroel, the safest place in the world.
The shooter in the attack, 25-year-old Amir Sidawi, had handed himself in at a local police station six hours after the attack. In total, eight people were injured, including two seriously.
One of the injured was a pregnant woman, who was shot in the stomach and required an emergency surgery to remove the baby. Both she and the baby are presently fighting for their lives.