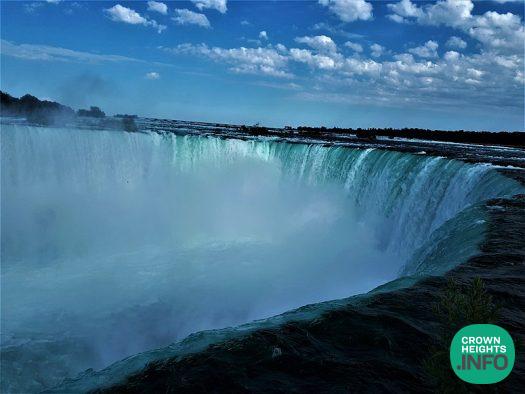 MIRACLE: Chabad Woman Falls 50 Feet Down Sheer Cliff At Niagara Falls, Survives With Only Minor Injuries
by CrownHeights.info
A Lubavitch family hiking near Niagara Falls got the miracle of their lives this week when a pregnant woman in their party slipped off a sheer cliff and tumbled to the ground more than fifty feet below.
The family from Crown Heights had been on a hiking trip on the Canadian side of Niagara Falls when the incident unfolded.
"I was ahead with one of the kids when suddenly my daughter comes screaming to me 'Mommy fell off the cliff'," the husband told CrownHeights.info. "If you would see this cliff, you would think that's it, it's finished."
The cliff, a more than 50-foot sheer drop, is on an elevated portion of the trail that they had been hiking on and has protrusions of rock from the top to the bottom where it ends near the water's edge.
Miraculously, when the husband screamed his wife's name, she responded that she was alive and OK.
"I called the fire department, but since we were a mile into the trail, it took 45 minutes to an hour for them to reach us," the husband explained. "In the meantime, three gentlemen climbed down from another portion of the trail to help her. From where we were, there was no way to get down."
Nearly fifteen firefighters arrived at the location and rappelled down the cliff to the injured woman. Unable to get her back up, they commandeered a tourist boat and took her by water to safety.
The miracle of the entire incident became evident in the hospital, where the shocked rescuers were told she suffered only minor injuries and the baby was fine.
"When the police officer called me later on and was told that my wife and the baby were fine, he was basically crying," the husband said.