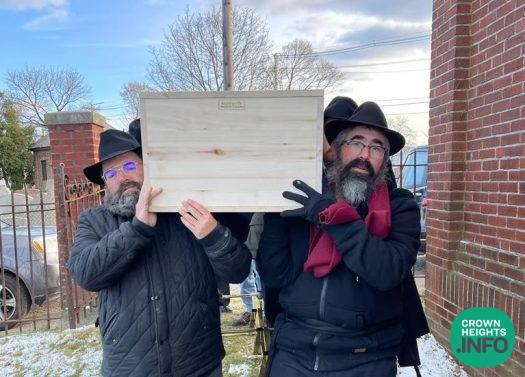 A Special Needs Burial – A Shlichus Story
by CrownHeights.info
The following story was written based on an account given by a shliach regarding the following events.
It's something that happens during the course of shlichus, but these incidents are still rare.
A phone call from a nursing home asking for some help burying a Jewish resident is hardly unheard of, but this situation was unique.
Shliach Rabbi Nechemia Shusterman of Peabody, Massachusetts received a call from their local Jewish funeral director requesting assistance burying a Jewish man with special needs who had been under government care for 93 years.
The boy had been placed in the care of government agencies at fourth grade and had just passed away at the ripe age of 96.
Determined to provide a proper burial, Shusterman placed a request on a shlichus WhatsApp group in an attempt to gather a minyan.
Soon after, seven Shluchim and three others carried the aron on their shoulders to the cemetery where they were told that this man had a plot set aside for him.
Holding only his English name, no close relatives and no details about his life, the minyan was in for a surprise.
When the minyan arrived at the plot, they found a single headstone and three plots.
Of the three plots, two were already occupied, with the headstone giving the father's name as Herschel, the mother as Shaindel. Both parents had been born in the late 1800's, with the father passing away in 1973, and the mother in 1980.
The headstone also said that the third – unoccupied plot – was for their beloved son, with a birthdate in July of 1925 and no date of death.
"It was clear that the parents had created and paid for a plot for their son who was special needs that he should one day get a kosher burial," the Shliach said. "Remember the mom died fifty years ago!"
Sure enough, now the minyan had a name, Kalman ben Herschel, and were able to call him by his Jewish name and say kaddish.