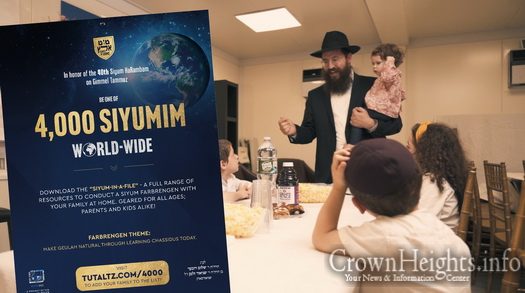 Celebrating The Siyum In Personal Way – In Your Own Home
"This year, I was thinking, 'What can I do special on the day of Gimmel Tamuz with my family? How can I celebrate the Siyum HaRambam in a way that my kids can understand and feel a part of?'" Shares Rabbi Tanhoum Matusof, Shliach to Monaco, "Then I saw the 'Tut Altz' Siyum-in-a-file and right there I had a solution to both my questions."
The Matusof family is not alone.
Several thousand Anash families have already signed on with a commitment to host a Siyum and Farbrengen at home this Gimmel Tammuz.
There are many Farbrengens and events that will be taking place worldwide on this auspicious day, but there is a unique impact and lasting impression made on Chassidim of all ages by taking it home.
This is how Shlucha, Mrs. Odeya White of Perth, Australia, sees it.
"The most incredible thing here is that you don't have to lift a finger in preparation besides setting up your table in honor of the special occasion. The Moshiach Office at Merkos 302 will be providing a complete experience. Just print out the packet of cards, assign one child to read each card and you have a beautiful Farbrengen!"
By signing up your family, you will be provided with the free complete set of resources to create an inspirational and exciting farbrengen with your family. The resources include an interactive story, Sicha, and video.
The entire program is focused on one easy-to-understand, relatable and applicable message about Moshiach and how we can properly prepare for its arrival.
"Being provided with ready resources to inspire my children, specifically while living in such a far-off place, is absolutely invaluable," explains Rabbi Yakov Raskin, Shliach to Jamaica. "My children will remember this for a long time, especially because they know that they are one of 4,000 Siyumim worldwide!"
Click below to include your family as one of the 4,000 Siyum Farbrengens being held worldwide in honor of the 40th Siyum HaRambam
The Siyum-In-A-File will be available for download on Thursday.