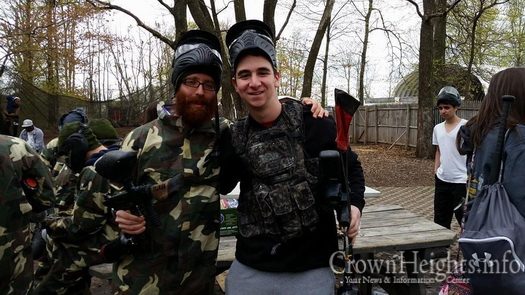 From A Paintball Game To A Wedding, A CTeen Story
by CrownHeights.info
Rabbi Dovid Weinbaum serves as the Director of CTeen West Suffolk, which is based at The Chai Center, in Dix Hills, Long Island. He recently relayed  the following story that shows how from a paintball game to a wedding, you never know the path a Jewish soul might take.
Rabbi Weinbaum had just moved to Dix Hills in Long Island in 2014 to spearhead the teen programs for the Chabad Chai Center, including the CTeen programs.
"We had just moved two weeks earlier to Dix Hills," Weinbaum wrote. "CTeen of the Tri state was having a Paint ball trip. I did not really know any of the teens and started texting and calling numbers I was given."
Of all the numbers called, only one said yes.
"It was a 2 hour drive each way to the trip and I was not sure I really wanted to do it for one teen," Weinbaum admitted. "I pushed my self and had a great time getting to know the teen."
Today, on that same Sunday, seven years later the teenager is engaged to another CTeen alumni who attended the first Heritage Quest travel Camp.
You can never know the path a Jewish soul may travel, and caring for each one is always worth it.