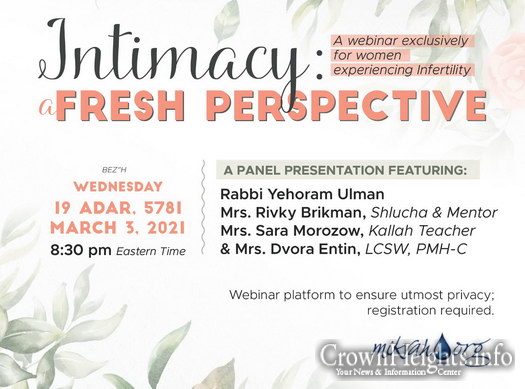 Last Call: Webinar for Women Experiencing Infertility
Following on the heels of the successful two week series of "Bringing Divinity into Marriage" that had over 1500 registrants, Mikvah.org has arranged a webinar to speak on this topic specifically for women experiencing primary or secondary infertility on Wednesday, 19 Adar – March 3, at 8:30 PM EST.
Combining the Halachic knowledge of noted Rav and Posek for this field, Rabbi Yehoram Ulman with the expertise of veteran kallah teachers Mrs. Sara Morozow and Shlucha Mrs. Rivkah Brikman, along with therapist Mrs. Dvora Entin LCSW, PMH-C, the webinar will explore a fresh perspective and answer important questions for a couple's most private matters.
Every woman deserves a chance to have her answers addressed privately. For the first time, Mikvah.org is pleased to directly address the perspective of women experiencing infertility with this webinar platform ensuring utmost privacy for the participants.
Participants may submit questions to the panel anonymously, in advance, upon registration. This webinar is FREE, although registration is required to attend; register at mikvah.org/events.
A recording will be available for a few days post-webinar only for registered participants.
Sponsorship opportunities are still available specifically this project at mikvah.org/donate.