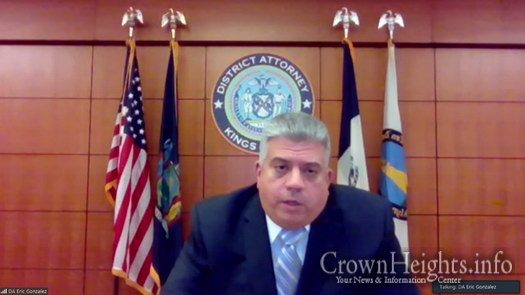 by DL Shernofsky
Who is the Brooklyn DA and why is he so important to the Jewish Community?
On February 3, 2021, over 45 students and legal professionals found out in a private zoom lecture organized by the Chabad Law Students. Attendees included Jewish students at Brooklyn Law School, the Jewish Law Student Association (JLSA) at New York Law School, and other legal professionals in the Brooklyn area.
In the age of Covid, planning activities that are safe and community oriented can be a challenge. So, in order to bring the Jewish legal community together and still follow all the CDC guidelines, Rabbi Eliyahu and Shaindy Raskin have developed fantastic online events that unite people from the comfort and safety of their homes.
The evening started with words of Torah from Rabbi Eliyahu Raskin. Alexa Bennet, a 3L attending Brooklyn Law School, led the event as the Master of ceremonies.
So why is the DA so important to the Jewish community? The Brooklyn DA, Eric Gonzalez, explained that, out of all the District Attorneys in New York, he is the first to create a task force to directly confront anti semitism and other racial attacks. By doing so, he has been able to drop racial crimes in Brooklyn by 50% over the last year. Not only that, the DA and his family live in Williamsburg where they see and understand the struggle of the Chassidic community, which is truly unique. Based on his inspiring talk I would say his biggest contribution to the office is that he is working on treating each individual case based on individuals and not broad general strokes. Lastly, to all the wonderful things he is doing for the Jewish community in Brooklyn, this was a great learning opportunity for our students to learn how to be just.
On a lighter note, the DA expressed his appreciation for the Jewish community and more importantly the traditional food. So what is the DA's favorite kosher dish? A pastrami on rye from Gottleibs on Lee Avenue in Williamsburg.
To finish off by quoting the DA of Brooklyn "I am very honored to be the DA of the largest Jewish community outside of Israel."