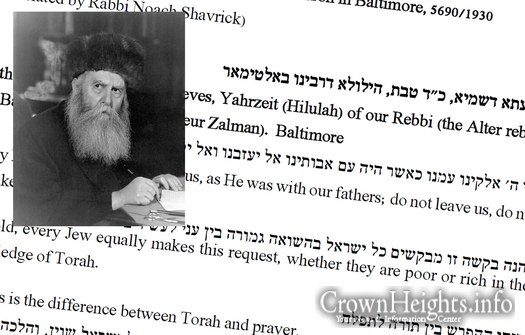 Maamar "Yehi Hashem" Given by the Frierdiker Rebbe While in Baltimore in 1930 Published in Hebrew and English
In honor of the 91st Anniversary of the visit of the Frierdiker Rebbe to Baltimore, where he said a Maamar on the occasion of the Alter Rebbe's Yarzheit, we are happy to present the exact Maamar in Hebrew accompanied with an English translation.
This Kuntris is dedicated in honor of the Great Great Grandfather of Mr. Akiva Shavrick, Hechasid and Shochet Rabbi Chaim Schneur Zalman Dov Ber Shavrick obm, one of the leaders of Chabad Chassidim in Baltimore and was present when the Frierdiker Rebbe said this Maamar in 1930.
A tremendous amount of time and effort has gone into preparing the text for publication, your financial support would be greatly appreciated.
To donate via PayPal please Click Here!
To download the PDF of the Maamar: Click Here
[pdf-embedder url="https://crownheights.info/assets/2021/01/Maamar-Yehi-Hashem.pdf" title="Maamar Yehi Hashem"]