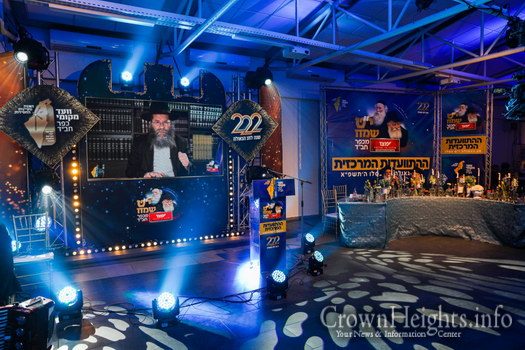 Kfar Chabad Holds Farbrengen for Yud Tes Kislev
Thousands from all over the world watched the Yud Tes Kislev central farbrengen that took place in Kfar Chabad, in a special live broadcast.
The event was organized by the Kfar Chabad local committee headed by Rabbi Shimon Rabinowitz. Speaking at the event were rabbis and shluchim from around the world, including Rabbi Yitzchak Shochat, Rabbi of the Mill-Hill Synagogue in London, lecturer and author Rabbi Simon Jacobson, Rabbi Mordechai Abergel Shliach of the Rebbe to Singapore, and Rabbi Shaul Wilhelm, the Shliach of the Rebbe to Norway.
A special film about the Sefer HaTanya was produced in honor of the gathering, along with an amazing clip on the melody "Poda Bshalom" with the best Chabad artists.
Photos by Mendy Kurant