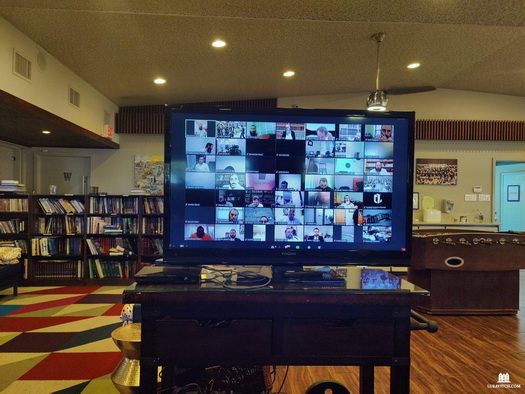 by Ashira Weiss – Lubavitch.com
Organizers of the 34th International Conference of Chabad Representatives held virtually last weekend scheduled a Zoom conference that they intended to last twenty-two hours. It is in its hundred-and-fourteenth hour (!) at the time this article is being posted and still going strong.
The Zoom was scheduled to begin as Shabbat ended in Australia (5 o'clock AM Saturday morning EST) as a virtual iteration of the always-anticipated post-Shabbat Melava Malka program of the annual conference. Chabad representatives in Melbourne initiated the call with various representatives from around Australia sharing Torah thoughts and stories. As Shabbat ended in China the baton was passed to Bangkok. Shluchim from around Asia logged on and were soon joined by Eastern Europe, Israel, Africa, Western Europe, United Kingdom, then Central and South, and finally North America as Shabbat concluded in each time zone.
But what was scheduled to be a twenty-two-hour Chassidic gathering kept going, with between 200 and 1,000 logged on at a time, the crowd fluctuating as days begin and end. Shluchim take turns sharing Torah thoughts and stories, the dialogue switching seamlessly between English, Hebrew, and Yiddish, peppered with Portuguese, Russian, and French. There are even volunteers providing simultaneous translation in the chat section. And when the Zoom meeting reaches its 24-hour limit they all sign back in, for to paraphrase the banquet's message, "No is not an option, shluchim will find a way."