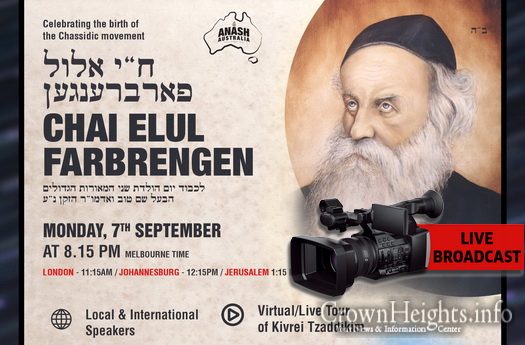 For the past 8 years a group of Chabad chassidim from Australia have traveled to the Alter Rebbe's Ohel and other historical sites of Chabad Lubavitch in the Former Soviet Union (FSU). The trip took place during the week of Chai Elul, with the climax of the trip visiting the Alter Rebbe and Besht on Chai Elul, the auspicious day of the birth of the '2 great lights'.
Shabbos Slichos in Medzibuz was an unforgettable experience, one that helped prepare everyone for the upcoming Days of Awe. One participant commented, "..after davening and pouring my heart out by the Rebbeim, I came to shul on Rosh Hashana and all the tears and hard work had 'been done'… I was ready for Succos!"
This year, due to the situation we find ourselves, our trip has been postponed until next year. We decided to take Anash on a virtual tour to the FSU: meeting the shluchim there, visiting the holy sites, reading a Pan by the Ohel, getting a little taste of what life in the FSU is like, experience the Rebbe's shlichus there and to show some appreciation for the 'real' soldiers on the ground.
This Monday, Celebrate Chai Elul with an incredible virtual tour (via ZOOM)
Join us as we visit:
– The Alter Rebbe's tzion live from Haditch (have your name read at the Tzion)
– The newly discovered resting place of Reb Levi Yitzchok of Berditchev
– The Rebbe Rashab's Ohel in Rostov
– The Baal Shem Tov's Ohel in Medzibuz
– The Reb Hillel of Paritch
– The underground bunker in Nikolayev where the Rebbe hid as a child
– Incredible miracle stories from Shluchim and lots more
DATE: Monday 18 Elul/7 September
TIME: Starting 8:15pm Australia, 6.15am New York, 11.15am London, 12.15pm Sth Africa, 1.15pm Israel
JOIN ZOOM HERE: https://tinyurl.com/ChaiElul
Include your name in the Pan to be read by the Alter Rebbe Tzion here.