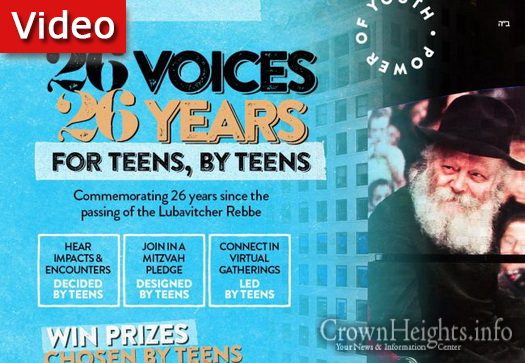 No Rabbis Leading This Farbrengen
After three months of virtual school and CTeen events, the socially crazed teen demographic was zoomed out. With Gimmel Tammuz approaching, CTeen HQ and a Vaad of shluchim were puzzled about how to reach teens on this auspicious day. "Following the Rebbe's example of creating leaders, we decided that it would be most effective to have the teens themselves steer the entire program from A- Z," shares CTeen vaad member Rabbi Dovid Weinbaum.
And so it was. After 5 brainstorm meetings and hundreds of whatsapp messages, the farbrengen "26 Years, 26 Voices" was completely planned for teens, by teens.
A Tzamakah Lecha Nafshi musical presentation, mini breakout room farbrengens, personal encounters at the Ohel and a Mitzvah pledge drive were led by CTeeners and CTeen Alumni.
While preparing to MC the event, Sasha Rubinsky, a junior from Rancho Mirage, CA gained a deeper appreciation for the Rebbe and his teachings. "The Rebbe became real to me and I hope that his message became more real to my fellow CTeeners as well. I was inspired to write the Rebbe a letter, and take on the mitzvah of shabbat candles in his honor."
For Risa Mond, a former CTeen leader who now directs the CTeen leadership network, this event was pure Nachas. "This wasn't a fun regional trip or event these leaders planned and marketed, " Risa shared. "Watching popular teens, give up their time to discuss how to best share the Rebbe's legacy with fellow teens is the clearest indicator how the Rebbe lives on."