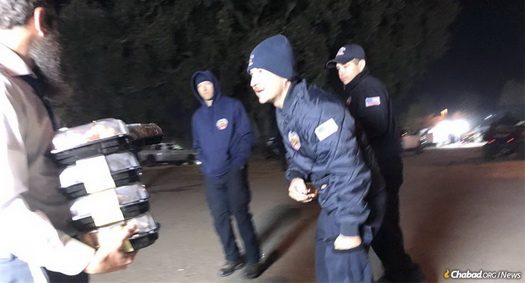 Rabbi Mendel Wolvovsky, left, brought homemade breakfast and expressions of gratitude to weary emergency workers fighting the wildfires in Sonoma County, Calif
by Faygie Levy Holt – chabad.org
As the Kincade Fire in Northern California continues to grow to 76,000 acres, Rabbi Mendel Wolvovsky attempted to bring some relief to weary residents and emergency personnel Tuesday morning offering homemade breakfast and conversation even as he had to reschedule a congregant's funeral because the local cemetery could not accommodate them with the fires raging nearby.
The co-director with his wife, Altie, of the Joseph Weingarten Chabad Jewish Center in Sonoma County visited a large staging area for emergency personnel at the Sonoma County Fairgrounds. "We wanted to show our appreciation for their dedication and selflessness, and just say 'thank you,' "Wolvovsky told Chabad.org. "These firefighters are coming from all across the state and other states as well and just hearing a real 'thank you' helps them keep going."
Wolvovsky also met with residents who are staying at an evacuation center. "Thank G‑d, the houses have been spared, and people know their houses are fine, but they just don't know when they can return home. I asked them how they are doing and if they need anything. I'm just trying to help people feel settled in an unsettled time."
With power outages also impacting residents in Sonoma County, the Wolvovsky children also did their part to help out, delivering hot soup to neighbors who had no electricity. (The Wolvovsky home had electricity, though the Chabad House remained in the dark for several days when the local utility cut power to parts of Santa Rosa.)
The Kincade Fire began on Oct. 23 and has burned more than 75,000 acres. At the height of the fire danger, it forced the evacuation of some 200,000 people near the city of Santa Rosa.
"We are really grateful that people's houses haven't burned down," he said, which was not the case in 2017 when the Tubbs Fire caught Santa Rosa residents unaware as it erupted in the middle of the night. "Just two years ago, many houses were burned down and some were just rebuilt and now this fire. Hopefully it will soon all pass and everyone will be back home and settled."
Elsewhere in California, which remains under a state of emergency due to high winds and the risk of more fires, Chabad emissaries have been doing all they can to help those who need it.
"#EastFire evacuees: Chabad is here to help. PM me as needed," Rabbi Nosson Gurary of Chabad of Simi Valley posted on Facebook Wednesday morning just after word of mandatory evacuations in his town began.
"Chabad of Bel Air a place to evacuate. We have showers, beds, and plenty of good spirits!" Rabbi Chaim Mentz posted on Facebook in the pre-dawn hours Monday as the Getty Fire in Los Angeles led to evacuations there.
And Rabbi Yochonon and Chana Fruma Baitelman, co-directors of Chabad at Porter Ranch, helped a family who was evacuated find a place to stay when a fire threatened their Los Angeles neighborhood two weeks ago.