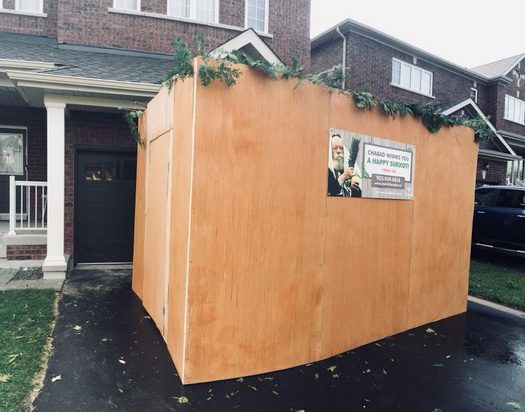 It didn't take York Regional Police too long to make an arrest in a case of vandalism that targeted a sukkah at the home of a Chabad rabbi in the town of Keswick, Ont.
Saeed Ahmed of Keswick was taken into custody on Oct. 29 and charged with mischief in relation to religious property.
The arrest brought a sense of relief to Rabbi Yossi Vorovitch, who has lived in Keswick with his family for the past two years.
Rabbi Vorovitch, a native of New York, said the first incident of vandalism occurred on Oct. 19, when he noticed that the interior of the sukkah on his property was in some disarray, though nothing was taken.
In addition, a sign on the outside of the sukkah, featuring a picture of the Lubavitcher rebbe, was defaced. Someone had allegedly entered his yard, removed ashes from an aluminum bucket and smeared some on the "Cha" in "Chabad," leaving the word "bad," he said.
About a week later, he had a disturbing run-in with Ahmed, who allegedly appeared at Rabbi Vorovitch's house on Shabbat and demanded to enter.
"He wanted me to speak in Hebrew," Rabbi Vorovitch stated. "What concerned me the most is I didn't know if he was simple or nice, or if he had other intentions. I don't know what his motives are, what he could do or not do. It was extremely alarming."
After that incident, Rabbi Vorovitch said he was further concerned when he saw that a photo of Adolf Hitler had been uploaded to the Chabad Jewish Centre of Georgina's profile on Google Maps, along with a picture of a man wielding a curved sword.
Adding to his concern was that someone had also posted an odd review on the site, saying that there should be more synagogues in Pakistan.
York Regional Police were alerted and an investigation was launched. Police arrested and charged Ahmed, 35, on Oct. 29. He was scheduled for a bail hearing on Oct. 30.
Read More at CJNews