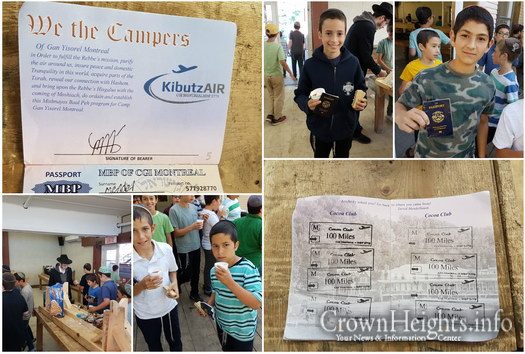 This past Friday, the 16th of Tammuz, CGI Montreal made history by having ALL 283 kids wake up early and come to cocoa club.
Cocoa Club is a program which encourages kids to wake up early to learn Mishnayos and Tanya by heart, before the regular daily schedule begins. Campers who attend earn personal as well as bunk prizes.
The program this year is run by the camps Mishnayos Baal Peh Director, Mendel Lerner, who says that this years program exceeds 250 campers daily. The most ever.
Lerner has set up a program of incentives to encourage campers to come, building the whole program around a theme of an airline.
Each camper has a personal passport of which he receives stamps and visas which correspond to amounts of miles. With these miles campers can make there way from an economy member, all the way to a first class priority member.
Campers receive various prizes and benefits throughout camp depending on the rank they are holding, including sky priority passes, marshmallows for their cocoa, VIP seating by plays and many more.
Bunks can also also earn prizes (fries, slush, water tubing, late nights) through getting enough points to fly there "Private jet".
The inspiration to this theme came from what the Rebbe brings in Igrot Kodesh that Mishnayos is what brings Kibutz Goluyos (Moshiach).
Therefore the airline was named KibutzAIR which would fly everyone to Kibutz Goluyos.
"Big shout out to the staff who've really done a good job encouraging the kids" said Lerner.