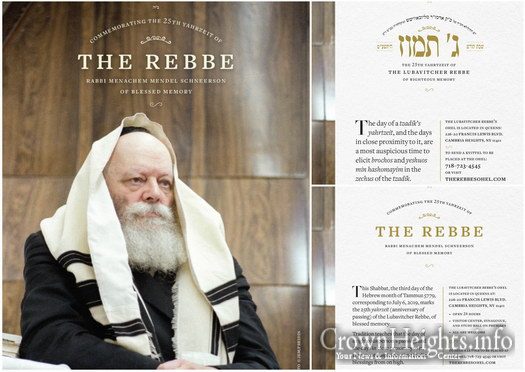 An awareness campaign for Gimmel Tammuz has swept Jewish media across the country and beyond. The campaign, which hit the papers last week, brings awareness to the special day, and encourages people to do acts of goodness and kindness, as well as Learn Torah and visit the Ohel.
by CrownHeights.info
As Gimmel Tammuz approached, a campaign grew to bring awareness to the special day, and galvanize people into action.
The campaign, spearheaded by Menachem Benchemon, first hit the most well read magazines across the Jewish community last week, including papers such as the Ami Magazine and The Jewish Press.
The first wave is being followed by an even broader push this week, reaching places such as England, Israel, LA, Lakewood, and Montreal.
The campaign aims to encourage people in acts of goodness and kindness, as well as to learn Torah, and visit the Lubavitcher Rebbe's resting place in Queens.
A social media blitz has also been begun, as people share the campaign across groups and platforms.
Thousands are expected to visit the Ohel of the Lubavitcher Rebbe in Queens New York this weekend, in an annual visit for his Yarhtzeit.
To download this campaign and share on social media: Click Here