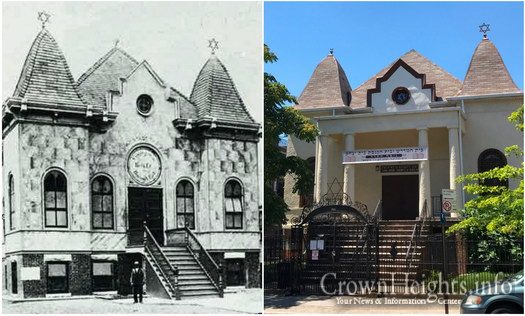 (Photos Courtesy of Brooklyn Public Library, and Mr David Shor)
Chevra Anshei Lubawitz Synagogue in Boro Park, one of the oldest shuls in Brooklyn, will soon be going up for a vote on Landmark status, which would permanently stop a plan to demolish it. The plan has been on hold as control of the property is being litigated in court.
by CrownHeights.info
Chevra Anshei Lubawitz is not your average shul. Situated in a highly priced area of Boro Park, on 12th Avenue and 41st St, the building, which was built in 1906 and is still used as a synagogue to this day, is presently in court following its sale to a real estate developer.
The building and its property were sold for $3.1 million in 2017 with the developer planning to demolish the site for a new condominium building.
The developers plans to demolish the building were placed on hold as members of the shul filed a lawsuit in an attempt to retain control over the property. The lawsuit is presently being litigated in court.
With the strong backing of the Boro Park Community and Lubavitch community at large, a request was made to the Landmarks Preservation Commission to label the shul as a Landmark, and therefore protect it permanently.
A complete historical analysis of the location was prepared by historian Anthony W. Robins, and submitted along with letters of support to the Landmarks Preservation Commission chaired by Mrs. Sarah Carroll.
The multitude of letters sent advocating for the naming of the shul as a landmark included many notable names including Chairman of Merkos Linyonei Chinuch Rabbi Yehuda Krinsky, Rabbi Berel Levin Head Librarian of Agudas Chasidei Chabad, Rabbi Yitzchak Raitport of Boro Park, and Rabbi Sholom B. Hecht of NCFJE.
Many politicians also wrote in their support of naming the shul as a landmark, including Public Advocate Jumaane Williams. Council Members Brad Lander and Carlos Menchaca, Community Board 12 Chair Yidel Perlstein, and Director Sacred Sites Program at NY Landmarks Conservancy, Ann-Isabel Friedman also sent in letters of support.
Final draft - March 3rd, 2019 - Beth El Lubawitz-min