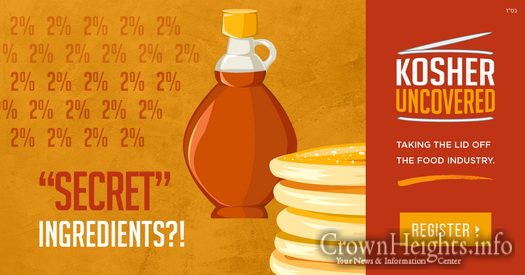 by Menachem Posner
The world of kosher supervision is vast and complex. Hundreds of supervising agencies, thousands of products and millions of ingredients … How does kosher supervision work, and what does an educated, 21st-century kosher consumer need to know?
In "Kosher Uncovered," the latest four-part course from Chabad.org/Courses, Rabbi Berel Bell will take his audience in a behind-the-scenes look at the mechanics and methods of modern kosher supervision.
A graduate of Yale University and the Central Lubavitcher Yeshivoth, Bell is a prominent authority on Jewish law and a justice (dayan) at the Rabbinical Court of Montreal, whose symbol, MK, is that of one of Canada's leading supervising agencies. An expert in kosher supervision and Jewish medical ethics, he will share lessons and anecdotes from his decades of research and on-the-ground experience.
In the first class, he will discuss the spiritual ramifications of kashrut and how modern-day certification evolved. In the next installment, he will share how the kosher meat and fish industries heed Judaism's call to avoid cruelty to animals. The third class will educate viewers on the fallacy of reading product labels to determine whether or not an item is kosher. In the final lesson, the rabbi will tackle the issue of machinery and equipment used for both kosher and non-kosher products.
The free course will air on four consecutive Tuesdays, from March 12 to April 2. As with all Chabad.org courses, participants will be supplied with source sheets, quizzes, access to discussion boards and an opportunity to interact directly with the presenter.
"Kosher is the bedrock of the Jewish home and Jewish life," says Yaakov Kaplan, who produced the course. "Whether you already keep kosher or if you are considering incorporating this mitzvah into your life, this course will give you a deeper understanding of what lies behind the label."
The online course is free of charge, though registration is required. Click here to register.