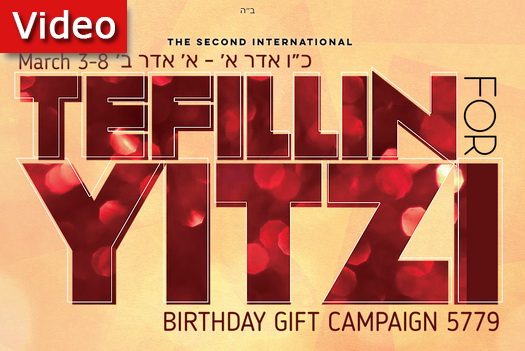 A campaign has launched its second drive to get people to put on tefillin throughout the world. The campaign is a birthday gift for Rabbi Yitzi Hurwitz, who is about to turn 47.
As a little boy in Brooklyn, N.Y., Rabbi Yitzi loved dancing, singing and making people laugh. As a Chabad-Lubavitch emissary to Temecula, Calif., he used those gifts to teach and inspire others, as he and his wife, Dina, built a vibrant and loving community.
So much began to change so quickly six years ago, when the Rabbi was diagnosed with ALS (known as Lou Gehrig's disease), which has gradually robbed him of the ability to walk, speak or even move.
In the years since his diagnosis, the father of seven has become a bastion of inspiration to millions worldwide, through his uplifting, transformative (and always optimistic) Torah writings, his musical compositions, and through the bright smiles he still shares with his many visitors and students in his apartment in Los Angeles, where he now lives.
The campaign, being run from March 3rd through March 8th, encourages people to put on tefillin, snap a photo, and send it into the campaign. A goal of 15,000 Tefillin has been set, lets help get there.