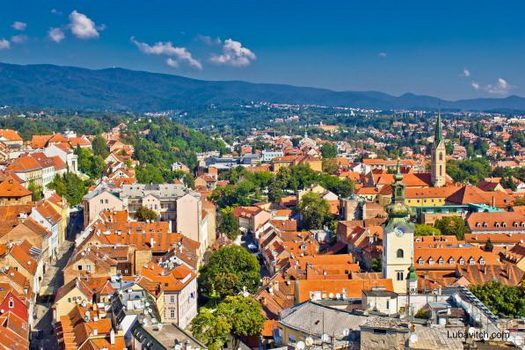 Emerging From the Shadows, Zagreb's Jews Celebrate a New Mikvah
by Baila Olidort – Lubavitch.com
"It's been a festival here all month leading up to the opening," Raizy Zaklas, Chabad's representative to Zagreb, Croatia told me Wednesday morning. She and her husband, Rabbi Pini Zaklas, were preparing for the formal inauguration of Zagreb's new mikvah, the first in seventy years. Aromas were wafting out of Chabad's kitchen, where a chef was preparing food for a crowd. Raizy was wrapping up a private Torah class with a local woman, and the rabbi was greeting guests who had come from abroad for the occasion.
Zagreb is a picturesque city. Its Upper Town retains historic cobblestone streets and Austrio-Hungarian architecture dating back to the middle ages. Looking out to its Lower Town, colorfully tiled clay roofs and open marketplaces in historic town squares offer stunning views. But, like most Balkan cities, its once thriving Jewish scene has long since disappeared. Today, some 3000 are formally registered as Jews.
There are more, I learn, but fear of anti-Semitism that carried over from parents and grandparents have made subsequent generations of Jews afraid to identify. Conversions in the past, and intermarriage to this day—practically at 100 percent—have created profound assimilation, leaving an otherwise highly educated demographic ignorant about their own heritage.
In recent years, though, cautious curiosity has prompted many to explore their roots. V. Mayer, a local journalist, learned the truth a few years ago when her mother lifted the lid on a family secret. With her suspicion that she had some Jewish ancestry finally confirmed, she wanted to know more. "But I wasn't going to submit my name to the community's Jewish registry." She bided her time until, one day, she spied the Chabad rabbi with his children at one of the city's public playrooms. "I observed him and knew that if I'm going to learn about Judaism, I would like to learn from him–an authentic, traditional Jew." Still, it would take a year before she worked up the courage to ask him to meet with her in the lobby of a local hotel.
The Zaklases, who came from Israel in 2004 to open Chabad in the city, had the odds stacked high against them. "This is a poor country. The community is small. And people were afraid to come forward." But their honest commitment to Jewish life and Jewish values finally resonated with locals. Gingerly at first, individuals accepted invitations. They came to learn, to question, to discover. And then, like Mayer, they kept coming, not only for the learning, "but because there's so much joy and love here."
I listen as Pini and Raizy speak during the mikvah inauguration. Their easy manner and embracing warmth are indeed contagious. But I wonder if the content of their message is not too specific for people who are new to this. I ask a few of the locals sitting near me. It is a bit more than they can relate to, they admit. Ironically though, it seems to have the effect of actually drawing people closer. "We know they are giving us the whole picture. It may be more than we are prepared to take on, but at least we know," a participant said.
Until the new mikvah opened, Raizy and a handful of women would fly or drive to more established neighboring Vienna or Budapest. Since it opened for use less than a month ago, more women have been reaching out to Raizy to learn about the mikvah. "This is a really foundational Jewish practice, and it struck a chord with the women here. They clearly appreciate the significance of mikvah."
Locals I meet speak not only of a Jewish revival that Chabad has brought to town, but of a sense of pride at identifying as Jews that had been starkly absent in Zagreb. The confidence in their Jewish identity as modeled by Pini and Raizy, a Croatian businessman tells me, has created a shift. "It's made people feel comfortable to identify and happy to belong."