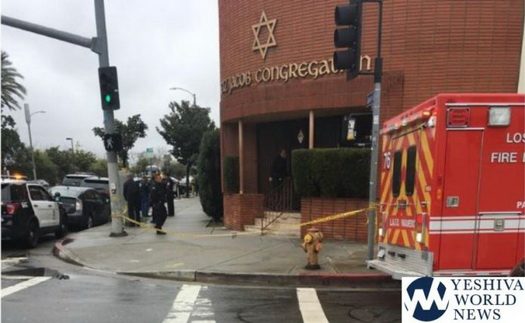 A suspicious individual was shot at a Chabad girls high school in Los Angeles on Thursday afternoon.
Police and paramedics responded to the Ohel Chana High School, located inside Etz Jacob Congregation on the 7600 block of Beverly Boulevard, at 12:24 p.m.
In an email to parents, the school said it's security guard observed the man canvassing the outside of the school.
Video (see below) shows the suspect filming the school property just moments before he was shot.
When the suspect was confronted, he became "belligerent" and was shot in the leg. The victim was conscious and breathing and was transported to a local hospital.
Authorities initially identified the victim as a man in his 30s. However, in videos posted to YouTube the individual identifies as transgender, and "prefers to be identified as female".
The victim filmed the entire incident and uploaded video to YouTube. One video shows the man observing Frum girls on the street while wondering aloud if it's a "Jewish tradition" that they are dressed a certain way. He circles the building while filming and making comments. He is confronted by a security guard, who repeatedly asks him to stay away from the building.
The individual then approached a security guard standing behind a fence. The guard drew a firearm and pointed it low, holding it steady for several minutes. He then appeared to lower the gun for a moment, but quickly brough it back up. At that moment, the gun appears to go off in his hand. It's not clear from the video whether the shooting was intentional.
The individual began shouting "(Expletive) shot me. (Expletive) shot me in the leg!"
The individual continued filming as bystanders and then paramedics come by to provide assistance.
The circumstances of the shooting were under investigation.
Letter from the school:
Dear OCHS Parents,
We want to inform you about an incident that took place at the school this afternoon.
An individual was canvassing the outside of the school building.  When he was confronted by our school security guard.  After becoming belligerent, the security guard did shoot him in the leg (he is not critically injured).
We are happy to inform you that absolutely no students were hurt or in danger at any time during this period.
As a precautionary measure, the school building was put on lockdown and will continue to be on lockdown until further notice that all has been cleared by the police.
The students are currently being given extra time to relax before going into class.  We davened an early mincha and will keep posted.
Thank you for your understanding.