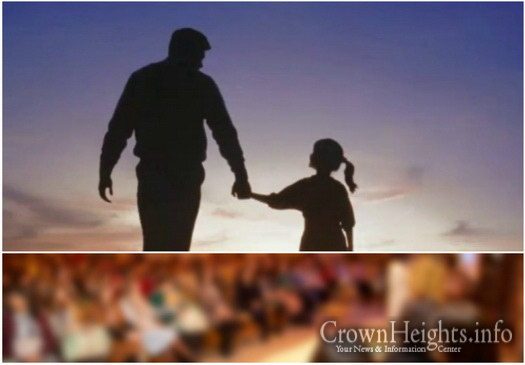 by Rabbi Sholom DovBer Avtzon
Being that the convention of Shluchos she'tichyu is taking place this week, I thought it appropriate to present this thought, with an introduction that I heard from my father Reb Meir a"h.
When I was a youngster, he once said to me, Sholom, why do you think the Rebbe made an organization, for Nshei u'bnos Chabad (the women and daughters of Chabad) and why does he say a sicha especially for women a few times a year, when by the previous Rebbeim, it was quite difficult, if not impossible for them to have a yechidus?
Obviously, I just shrugged my shoulders as if to say, how should I know.
So he answered, The Rebbe is the 7th generation of the Rebbeim from the Alter Rebbe. In sefiros, seven represents the sefira of malchus. Chassidus explains in great length various aspects of the sefira of Malchus, and one of the points is that Malchus receives from the sefiros that precede it and gives over that illumination which it receives, to the worlds below it.
This is compared to the moon that doesn't give off its own glow, but rather, it reflects the light it receives from the sun to us in this world.
Chassidus explains that this concept applies to women also. As everyone knows kol kevudah bas melech pinimah – the glory of a Jewish women is in the house, representing the tribute of modesty. However, Chassidus also stresses the concept of eishes chayil ateres bailah – a woman of valor is the crown of her husband, which indicates that a woman is higher than a man. Just that, that quality will only be revealed in the days of Moshiach, as we say in the sheva brochos, then we will hear kol chosson v'kol kallah – the voice of the groom and bride. Until then her influence is expressed in a quiet way.
Being that the Rebbe is dor hashivii which symbolizes malchus and when Moshiach comes the greatness of malchus and the women will be revealed, therefore as a foretaste of the days of Moshiach, the Rebbe began revealing their true intrinsic greatness.
With that said, I will now share with you another segment of my correspondence with Malka about the role of women, as she heard it from the Rebbe.
Please note, being that some of the readers may not be fluent in Loshon Hakodesh, with her permission I took the liberty of translating them and placing the translations in parenthesis.  In some places, I also added a few short words of explanation in brackets.
Quite often the role of a Jewish woman comes up in our correspondence. So last year, I mentioned to her in an email, to look at the last explanation of the kli Yukor in the beginning of parshas Shelach.
A moment later her reply was: [The reason I note that her reply was instantaneous is to counter the sceptics who think someone is conjuring these thoughts, and they are not from the Rebbe. Please tell me which individual can figure this out in a moment. On a one on one, I can reveal more details, but in a public forum I remain cautious].
Yes, I know that kli yakar! Hashem wanted to send women [to spy out the land], but agreed to Moshe's request of sending shlach lecha ledatcha, ANOSHIM (men). 
The Kli yakar explains the reason why Hashem wanted to send noshim (women) – is because of their historic love and dedication for Eretz Yisroel [as can be seen from the daughters of Tzelafchad in Parshas Pinchos, etc.]. But what was Moshe's motivation to insist on sending men???
Additionally, we see that Moshe added to Hosheya's name a Yud [which was removed when Hashem changed Sarai's name] to Sarah. I was taught the reason was for Yehoshua to have this feminine koach (strength and quality). 
Sarah was the first person to reject the concept of a two state solution, by evicting Hagar and Yishmael, and announcing that this one will not inherit Eretz Yisroel with my son Yitzchok. 
Midrash says on the fourth possuk of Aishes Chayil: dorsha tzemer u'pishtim – that is Sarah.
Tzemer and pishtim: wool and linen is shatnez [which the Torah forbade to wear together in one garment] – what does the Aishes Chayil do with shatnez material? 
She keeps them apart! Sarah was the one to keep Yishmael away from Yitzchok and his inheritance. Wool and linen must be kept apart 
Moshe implanted part of Sarah's name into Yehoshua's name to have this mandate.
Interesting that Yehoshua was at that time a bochur (a single man) – he much later married Rochov from Yericho. Kolev was married to Miriam. I assume Yehoshua was the only bochur among all the meraglim (spies). A bochur is given a feminine attribute part of Sarah's name!
Before Yehoshua brought Beni Yisroel into Eretz Yisroel he established the tefilla (prayer of) Oleinu (it is incumbent upon us to thank Hashem) – where the theme of "shelo sum chelkeinu kahem v'goroleinu kechole ha'moinam – He has not assigned us to a portion like theirs, nor a lot like that of all their multitudes"  – emphasizing that we are different than them, out goral (lot), yerusha (inheritance) and chelek (portion) is not like theirs is stressed.
Hashem consistently prioritizes women over men. Giving the Torah was first – l'bais Yaakov – to the women – and only later tagid l'bnei yisroel – was it told to the men. 
The women never sinned at chet haegel (by the golden calf). 
The shira (song) of the women at kriyat yam suf (splitting and crossing the sea) was more glorious then the men's shira – it had dance and musical instruments.
Yet women are excluded from all leadership roles, judicial positions (except Deborah the Shofetes (judge)), and even delving into Talmud – even though their connection to Torah preceded men's connection! And even though Torah study requires "l'hovin u'l'haskil' (to discern and comprehend) (as we ask in morning brochos of shema) and women have this quality of l'havin because our sages inform us that they have bina yeseira (an extra dose of discernment)!
This is a paradox!
More so, later when Yehoshua himself sends meraglim (spies) (as per haftora) – he also sends men – why did HE also send men after knowing the Hashem wanted women (per Kli Yakar)?
Yet if Moshe would have sent women, we wouldn't know that an Eida (a quorum) for a minyan is 10 men -" eida harah"!!!!!AND
From all the sins of bnei yisroel in the midbar (wilderness), only this one drew the harshest punishment – that they ALL die.
In no earlier transgression including chet haegel (the creation and bowing down to the golden calf) were ALL the people of that generation killed.  So that shows that in a certain point, this sin was worse than chet haegel! 
Chet haegel was a rebellion against Hashem like an unfaithful bride at her wedding. There was no worse sin than that. It caused the first Luchos (tablets) to be broken, yet not everyone was killed but this was worse with a harsher punishment, that everyone of that generation got killed, why????
I then replied to her whatever I did, and then concluded, I am positive that this question is not new to your way of thinking and you definitely mentioned it to the Rebbe. So what was his explanation?
This is what she replied.
Based on my recollection (as I did not jot it down then): 
One point the Rebbe answered by saying it was a consequence of loshon hara (evil gossip) that kills three people, the one who spoke, the one who hears and the one who is spoken about. Eretz Yisroel was spoken badly about so it was "killed" for this generation – they couldn't enter the land. This couldn't be forgiven like the other transgressions, even those that were worse, because Hashem wasn't the "victim" to be mochel (forgive).
Another point was answered by his explanation that LEMAALAH (according to their true essence and the way Heaven sees it), a woman can go out and even serve as spies – Hashem approaches it as it is LEMAALAH, but Moshe deals with the LEMATTAH (the way it is down here in this physical earth), and LEMAATAH there are issues of tznius (modesty), Kol Kevuda Bas Melech Pnima (the honor of a Jewish woman is in her house) etc. making it inappropriate to send NOSHIM (women), both by Moshe or by Yehoshua.
At an earlier stage Moshe dealt with Bnei Yisroel in a derech (manner) of LEMAALAH, by personally dealing with all their issues, until his father-in-law Yisro came and taught him that LO TOV HADAVAR (this is not the proper way down here in this world), there is a TACHTON (a physical world) and one cannot deal with a TACHTON in a manner that ignores teva (human nature). Yisro continued NOVOL TIBOL (you and the people will become fatigued from waiting on line), the people need Sorei Alofim, Sorei Mayos (judges for groups of a thousand people and for smaller groups of even a hundred people)  etc. because of the LO TOV (the bad) that is LEMAATAH (in this materialistic world).
That is why in the future when Moshiach comes and the LO TOV is removed, a woman will be on a higher level than a man…
Something like that… [meaning this is how I recall and understood the Rebbe's response, but I may have omitted some points that he mentioned].
That was her reply to me.
So on that note, I take the opportunity to wish the shluchos tremendous success in their shlichus of preparing the world for the coming of Moshiach, in the refined mannerism of a woman, may it be speedily in our days.
Rabbi Avtzon is a veteran mechanech and the author of numerous books on the Rebbeim and their chassidim. He is available to farbreng in your community and can be contacted at avtzonbooks@gmail.com
This week's story is in zechus and anticipated speedy recovery of Chaim Schneur Zalman ben Miriam.