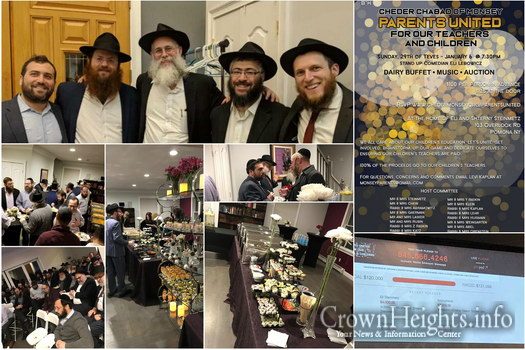 Fundraiser run by Parents United raised $120,000 for Cheder Chabad of Monsey. The money is being used to secure pay for the teachers of the school.
by crownheights.info
Cheder Chabad of Monsey, like all other schools, struggles to balance a massive budget and tuition costs.
A dedicated group of parents came together to alleviate some of the burden, and give the teachers a firm and solid groundwork to continue their work.
The group, coined Parents United, held an auction and fundraising event in the Pomona area, with the focus on helping pay teachers directly.
The event, hosted by Mr and Mrs. Eli Steinmetz, saw a turnout of over 130 parents. Between the auction, matchers, and Chai Club, the event drew $120,000 in donations for the school.
Discussions were held about forming committees that would focus on specific issues and goals, and parents were asked to fill out a cards offering their time to help with things like building upkeep, security, and extra curricular activities.
The event was a resounding success, with special thanks to the matchers: Mr. and Mrs. Hayman, as well as the Scheiner, Litzman, and Klein families.
If you would like to participate and donate: Click Here
Part of the Parents United Board: Ari abramowitz, Rafael Hauisman R'hayman, Boruch Weingarten , and Eli Steinmetz.