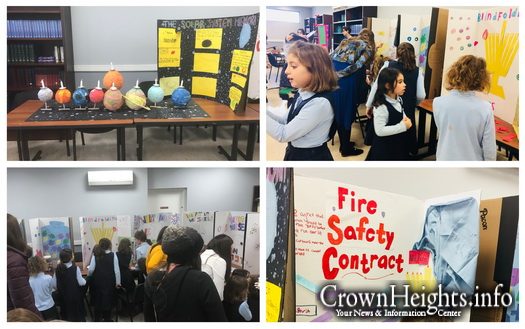 For two weeks before Chanukah plans were discussed and deliberated as each grade chose a topic of interest. They conducted research into their chosen topic, hypothesized, tested their theories and constructed their models and displays. The students' creative side came out as they worked to bring their ideas to fruition. Of
course, teamwork and achdus was a key component in their work and each group came away proud of what they had accomplished and excited to display it at the fair to family and friends. Displays included a Solar System Menorah, a Rube Goldberg Machine, and the Five Senses of Chanukah. Also on display were all the beautiful and creative menorahs submitted for the Tzivos Hashem Menorah contest.
Cheder Chabad Girls of Long Island provides a full Chabad Lubavitch and academic education enabling our girls to truly blossom and reach their full potential as
the Akeres Habayis of the next generation. CCGLI is a relatively new school seeking to grow and continue its vital work in providing a top level Torah, Chassidishe and
academic education to serve Lubavitch girls across Long Island. Please support the school by purchasing a $25 raffle ticket at https://www.ccgli.org/raffle and view the selection of exciting prizes and multiple ticket bonuses.