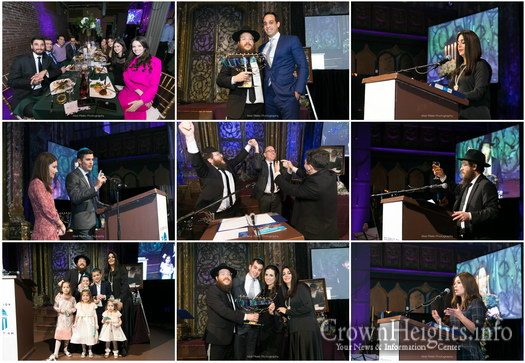 Some 300 alumni, parents and supporters of Chabad at the George Washington University gathered at the Angel Orensanz Center in Manhattan last week to celebrate 10 years of Chabad at GW and pay tribute to philanthropists who are building a new Chabad Student Center at GW.
After a sumptious cocktail reception by Table One, Gala Chair Jonathan Cohen ('12) welcomed everyone and introduced a video presentation highlighting the impact that Chabad had on alumnus Ryan Kaminsky when he lost his father in a car accident and the way in which Chabad served as a place of refuge and support during a BDS crisis on campus.
Chabad at GW co-director Rabbi Yudi Steiner welcomed Mr. George and Pamela Rohr and announced the dedication of the Rohr Chabad Center at GW. Rabbi Steiner reported that in the fall of 2018 the Steiner's hosted more students in the Chabad House than ever before. "Just imagine the level of engagement we will have when the new house is completed" he exclaimed.
Bracha (Meisel) Weimer ('18) and Sophia (Brener) Licht ('18) received the Volunteer Awards in recognition of their dedication to directing Chabad activities on campus under difficult circumstances. A video presentation telling this inspiring story was shown.
In a moving moment, the Steiner children were invited on stage to receive a special gift from their mother Chabad at GW co-director Rivky Steiner. She presented them with coins that she received from the Rebbe in recognition of the sacrifice and contribution that the children make on campus Shlichus.
Daniella & David ('10) Spier were presented with the Visionary Award in recognition of the pivotal role that David played in establishing a permanent Chabad presence on campus and the Brooklyn Sandwich Co., DC's kosher food truck. In accepting the award, David related that when he came to GW there was no Shul to celebrate Shabbos and Jewish holidays or Kosher food on campus. Thanks to the tireless efforts of the Steiners, all of those amenities are now available and the 4,000 strong Jewish student community at GW is thriving.
The generous dedication of the Spier Family dining hall was announced.
Sonia & Jack ('13) Sitt received the Young Leadership Award. Jack then launched a daring appeal in real time. The young alumni were challenged to increase their collective monthly donations from $4,400 to $6,000 in just 5 minutes. Before the ticker hit 0, more than $6,500 in monthly donations had been raised.
Josh Sassouness ('10) was presented with the Builders Award. A riveting video presentation brought to life the casual text message pitch Rabbi Steiner made to Josh asking that he dedicate the Josh Sassouness Chabad House and Josh's incredible acceptance. The people at Dwight Capital surprised their employer Josh by announcing that they would be dedicating the Dwight & Co. Lobby in his honor.
The dazzling program concluded with a high powered video depicting the new Chabad House and an appeal by key philanthropists and supporters to "Just Do It" and get the project done.
photos by Meir Pliskin photography