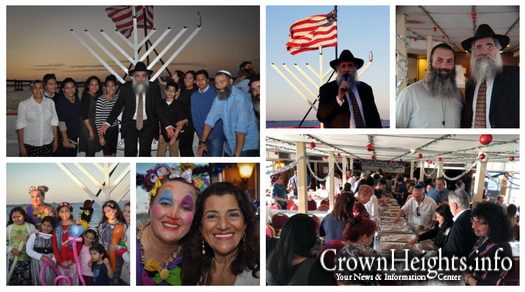 Chabad Lubavitch of Southwest Florida under the Leadership of Shliach Rabbi Yitzchok Minkowicz, celebrated Chanukah on a Cruise with the Lighting of the Menorah.
Over 200 people enjoyed a beautiful Chanukah Celebration on the Chanukah Cruise. The First Floor of the Cruise was a huge Buffet of Delicious Food, and an Open Bar with Drinks. On the Second Floor was the Children Activity Center with Clowns, Face Painting, Magician, and Photo Booth. The Top Floor under the Sky hosted Live Music, Dancing, and the Grand Menorah Lighting.
Bochrim Moshe Bell, Lazer Lazaroff, Yossi Komarovsky, Nissen Deutch, and Pinchos Sudak from the Miami Yeshiva Gedola Danced with the Community, and brought a lot of Simcha to the great and successful event.