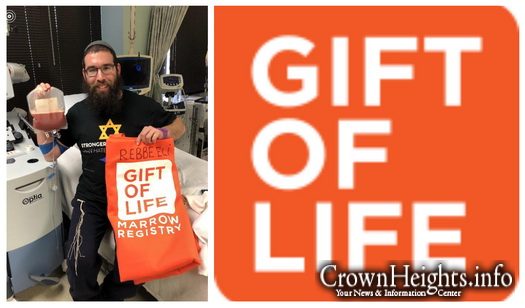 Rabbi Eli Gives the Gift of Life
An inspirational Chabad Rabbi donated bone marrow to save a life through the Gift of Life Marrow Registry. Having seen lives snuffed out in hate in Pittsburgh, he stepped up when he was found as a match to another, to save a life.
by crownheights.info
Rabbi Eli Wilansky has a fascinating story, starting with a teacher who was ill, to being a father who donates bone marrow to save a life.
Eli Wilansky was born in Montreal Canada, to a large family of 14 children. While still in elementary school, Eli had a teacher who contracted a devastating illness. In an attempt to find him a life saving match, the Gift of Life came to Montreal to collect swabs and match a potential Marrow donor. With the thought that he might be able to help his teacher, Eli got swabbed. Unfortunately, they were unsuccessful, and his beloved teacher passed away.
As is the policy of the Gift of Life Marrow Registry, they kept in contact with Eli, constantly updating his contact information should a match be found.
Throughout his young adult life, Eli, who always looked to help people, spent years helping in Chabad Houses around the world, including Richmond Virginia, Bologna Italy, and Chabad @ the Beaches in Florida, where he met his wife Esther. Now, married with children, he lives in Pittsburgh Pennsylvania, working in the local Chabad school and Home for the aged.
A few months ago, the surprising phone call came in, he was a possible match. "I never thought I would actually be a donor," Eli said in a message to crownheights.info. A medical exam was scheduled for October 29th, and Eli was booked to fly to their clinic.
Suddenly, a tragedy occurred when 11 people were murdered in a Pittsburgh synagogue just days before he was scheduled to leave. His flight was set for the night of the vigil for those killed. Stuck with the question to stay or to go, Eli decided that saving a life would be the perfect answer to the senseless hate.
The medical exam came back positive, and Eli set his mind to the next step, donating the marrow.
Rabbi Eli followed through, and recently donated the marrow. In his classic style, he live streamed the process over his facebook page, garnering many supporters and well wishers.
When asked why he did it, Eli answered, "I'm healthy, if I could help someone, why not."
To sign up and get swabbed for the Gift of Life Marrow Registry: Click Here