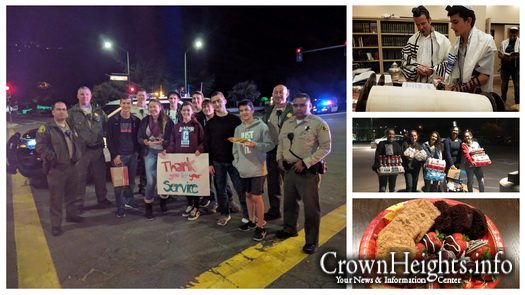 As evacuees of the Woolsey fire in Southern California returned home to their respective communities, they focused was on how they could help others who had suffered losses while simultaneously returning life to normal for themselves. At Chabad of Agoura Hills, volunteer Jeffrey Steinberg manned a drop-off station for donated items. Strangers came by throughout Monday with clothes, toiletries, toys, food items and store gift cards. "The Distribution Center will remain open for as long as it is needed" said Rabbi Moshe Bryski of Chabad of the Conejo.
In Westlake Village, Rabbi Yitzchak Sapochkinsky hastily put together a late afternoon minyan for Torah reading, so a young man could have his first aliyah. "With all the local shuls closed this past Shabbos, there were two Bar Mitzvahs that were postponed. But I felt it was important for the boy to have his Aliyah as soon as possible. While driving home after the evacuation orders were lifted, he made calls to community members to ensure a minyan, and stopped at some kosher stores to pick up food for the event. "It may not have been the fanciest Bar Mitzvah, but no doubt it is one of the most memorable that any of the participants have ever attended."
On Monday evening, twenty-five teens gathered at the CTEEN Conejo Lounge to reflect and give thanks to Hashem and to the first responders. "We first had a discussion session where the teens shared their personal stories" explains Rabbi Mendy Friedman. "Some stories were frightening, others were funny. It helped break the tenseness. Most importantly, having so many teens together was very uplifting. And several new faces showed up which was really touching."
Loren Yona, who lives in North Ranch, an upscale section of Westlake Viilage, spoke about her neighbors' homes that had burned down. "Thursday night we evacuated and then watched the fires remotely through our home security cameras. We could literally see the fire at our front door. We were sure it was gone." Miraculously, their home escaped damage. "But my heart goes out to my neighbors who were not so fortunate" she said emotionally.
"Evacuating in middle of the night and seeing tall flames lick up the grassy hills of my hometown was a heart-wrenching, surrealistic experience" says David Katz of Westlake Village. In the wee hours of Thursday morning, his family felt fortunate to find a pet friendly hotel that had vacancies in Pasadena, some 30 miles away. "It was a very lonely Shabbos. You try entertaining two cats in a small hotel room all Shabbos" he laughs. He was clearly excited to be back with his CTEEN chapter. "It was very gratifying to be with each other at the Lounge and feel the amazing strength and indomitable CTEEN spirit glowing on the faces of my fellow Cteeners. And being able to help the men and women who are protecting our lives and homes was awe-inspiring."
The teens then said tehillim for the current situation in Israel and then joined Mushka Friedman in her kitchen to help bake brownies, chocolate chip cookies and hand-dip strawberries and blueberries into chocolate. They then split into groups to personally deliver their thanks and goodies to the various fire command stations located throughout the area as well as to the police officers.
"I was in the supermarket and I met a police officer" said Yossi Sapochkinsky "and I asked him a simple question. He gave me this long, blank stare. Then he looked over at his partner for the answer. I could tell these guys were exhausted. They are working round the clock with very little sleep."
So Yossi purchased four dozen cups of coffee and accompanied one of the CTEEN groups as they drove up and down the streets, handing out their treats to police and fire personnel parked at various intersections in Westlake Village. "They were extremely appreciative" said Sara Lewis, who lives in Camarillo and who helped spearhead the project. "It's nice to be thought of and it's nice to get steaming hot coffee and freshly baked goods that were still warm. One guy said he had just finished eating but when we said warm chocolate chip cookies, he couldn't resist!"
"The community has really been super" adds Rabbi Friedman. "One police officer told me that several Ubers had shown up with pizzas sent by appreciative neighbors. The local fire station looks like my home on Purim. There is food and cases of drinks all over the place. It's really amazing to witness all of this caring and appreciation."
With the public schools announcing that they will be closed until after Thanksgiving, the Friedmans were also able to arrange for a number of teens to volunteer at a camp for kids displaced by the fires that is being hosted at the de Toledo Jewish high school in West Hills. The Oak Park School District reported that 37 homes of students were lost.
Mushka believes that everyone will come out of this stronger. "It put everything into perspective, especially for the teens. What may have been their biggest concern last week is not that significant anymore. Life is so precious and fragile. They are all so thankful for having their life, family, homes and for being in a position to help those less fortunate."