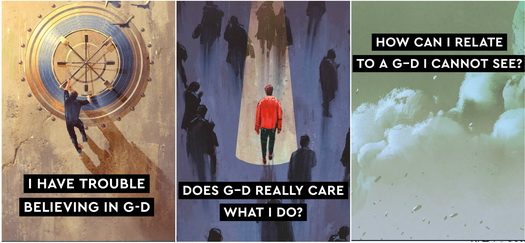 New JLI Course: Wrestling with Faith
In just a few days, over 350 Chabad Houses worldwide will be offering Wrestling with Faith, a new six-session course by the acclaimed Rohr Jewish Learning Institute (JLI), that openly addresses common challenges people have in their relationship with G-d.
Wrestling with Faith explores questions such as: Why do I need G-d if I can live perfectly well without Him? Does G-d really care about the nuances of Jewish practice? Doesn't the concept of "Jewish chosenness" seems racist? How can we relate to a loving and caring G-d amid the experience of tragedy and suffering? How do we reconcile compelling evidence for evolution and the age of the universe with a Bible that tells a different story? And: Is it even possible to develop a relationship with a G-d I cannot perceive with my five senses?
The course was endorsed by leading scientists including Jennifer Wiseman, a senior astrophysicist at NASA and the director of the American Association for the Advancement of Science's Dialogue on Science, Ethics, and Religion. "At a time when science and technology dominate the mechanics and framing of our modern lives, it is more important than ever to ask the bigger questions of life's purpose and values," she said.
This course enables the seeker to embrace the achievements of modern science while seeking higher gifts of wisdom, meaning, and a personal relationship with G-d."
Click Here to see some Mini Promos